Watch Video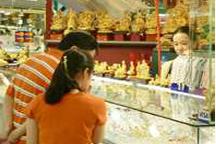 Play Video
Well amid global volatility, investors the world over have been pouring their money into gold this year. And here in China, demand for the yellow metal is surging, on the back of rising incomes and inflation concerns. Figures from the World Gold Council show, China overtook India in the third quarter as the largest gold jewellery market. Yin Hang takes a look at how Chinese investors are getting their bling on.
Chinese shoppers jam into a long queue, waiting to ring up their purchases, and take their precious gold jewelry home. It's a common scene, found in any of the gold jewelry stores in the capital city of Beijing.
Li Xiaodong, manager of Zhongjin Gold Flagship Store said: "Long queues like this have been occurring for half a month. We sold 50 to 80 kilograms of gold, on average, each day this month. Turnover is around 20 to 40 million yuan on average each day."
Lured by cheaper prices, customers from other cities are also flocking to Beijing, to snap up their favorite gold products.
One gold consumer said: "The brand of the store is famous. It could save us thousands of yuan with a 20 percent discount."
Gold prices in China have eased in recent months, tracking a similar trend in the overseas market. International gold prices slumped 20 percent to around 1,600 U.S. dollars per ounce. And correspondingly, retail prices of gold in Beijing have declined three times this month. It's spurred gold investors into a shopping frenzy.
In contrast, stores in the gold buy-back business are seeing sluggish traffic.
Zhou Xiangrui, deputy general manager of Guohua Jewelry Shopping Mall in Beijing said: "In previous months, when the gold prices hit 390 yuan per gram, we could buy back more than 5 kilograms of gold per day. Now fewer people like to do that."
Experts say considering the volatility of gold prices, Chinese investors should diversify their investment portfolio in order to avoid risks.
Editor:Zhang Rui |Source: CNTV.CN