Watch Video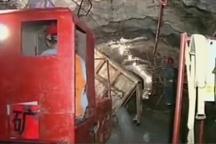 Play Video
Gold price movements are becoming increasingly difficult to predict. With prices fluctuating heavily in recent months, Chinese gold miners are busy hedging their risks.
Zhaoyuan in Shandong province, the biggest gold production base in China, has become busier towards year end as large orders for gold coins and bullions are snowballing. However, even when sales surge, mine owners do their best to hedge for potential risks. Two major ways are cost control, and T&D which hedges risks in futures market.
On the cost control side, gold miners choose the grades of quarts in production.
Jiang Guojian, mine owner of Zhaojin Mining Industry Company Limited said: "When gold prices are higher, we can get lower grade quarts, provided they wouldn't jeopardize profits; when prices are lower, we use less lower grade quarts."
To hedge from global risks, gold mine owners have set up risk control committees, which mainly uses the futures market to avoid risks.
Li Yisan, assistant general manager of Shangdong Zhaoyuan Gold said: "The main method is performing T&D through the Shanghai Gold Trade Centre to hedge risks. Normally we hedge 10 to 20 percent of our transactions, and increase to 30 percent when market is uncertain. When fundamental circumstances change to the opposite direction, we sell them out."
As China becomes the biggest gold production country in the world, more and more Chinese are investing heavier in the precious metal. However, as the county is relatively new to individual investments, experts say people need to be more cautious on the impact of global commodity price fluctuations on their wealth.
Editor:Zhang Rui |Source: CNTV.CN