Watch Video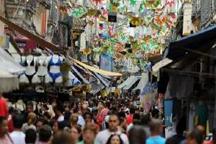 Play Video
There's been a rapid boom in the Brazilian economy over recent years, with 2010 seeing the biggest peak. But following the economic high last year, 2011 has been more of a mixed bag in terms of smooth and straighforward growth. It's been a year of ups and downs, with President Dilma Rouseff's government seemingly locked into an economic "tug of war".
Street vendors line the pavements in downtown Rio de Janeiro generating a healthy trade. This informal market has always played an important part in the Brazilian economy however it was the numbers in formal employment that closed 2011 on a positive note. In November unemployment fell to a record 5.2%, the lowest since 2002. Although according to economist Gilberto Braga even this is not as it seems.
Professor Braga said: "The end of 2011 in Brazil is full of contradictory indicators. A lot of jobs were generated throughout 2011 but towards the end of the year the creation of new jobs came to a halt. We're practically ending 2011 without any new jobs."
Reporter: "So with employment high and salaries rising there were no shortage of people on the streets on downtown Rio de Janeiro but for the government here was a constant question of balancing consumerism in an economy in danger of overheating."
At the onset of 2011 President Dilma Rouseff's government worried about the constant threat of high inflation took various measures to curb consumer spending such as raising interest rates. However towards the end of the year when things looked like they were stagnating they had to kick start this again by giving people, for example, easier access to credit.
Regina Monteiro Ferraz is just one of those taking advantage of the credit plans although she worries about consequences of this for Brazil. She said: "I think the big danger is when you make credit really easy for the population, especially the lower middle class. They end up spending more than they have, and going way over their budget."
Away from the high street, 2011 continued to be a good year for foreign interest in Brazil. The country received a total of 75.4 billion dollars in direct foreign investment. The World Cup in 2014 and 2016 Olympics continued to attract companies keen to invest in particular infrastructure or construction but it was the newly discovered oil fields which played an increasingly important part.
So unlike the boom of 2010 , the overall effect in 2011 was that the growth rate in Brazil slowed somewhat from 7.5%, the largest in 25 years to just 3%. As the country looks towards 2012, many like Professor Braga hope it will be more settled.
Professor Braga said: "It was year like a see-saw. We had the beginning of the year with one characteristic and the end of the year with another. But on average there was a balance and a small growth in the economy."
Editor:Zhang Rui |Source: CNTV.CN