Watch Video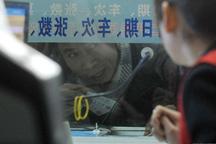 Play Video
This year, with more train ticket bookings for the Spring Festival holidays being done by telephone or on the Internet, ticket lines are much shorter than in the past.
In the Shanghai railway station, fewer than 20 passengers are waiting at each ticket booth. Internet and telephone pre-orders are accepted two days before on-site ticket sales begin.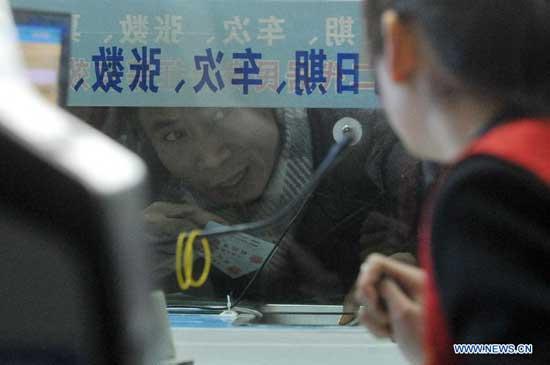 A passenger holding identification cards talks with a ticket seller in Hangzhou, capital
of east China's Zhejiang Province, Jan. 1, 2012. The real-name system of train tickets
purchase was launched all over the country for all passengers from Jan. 1, 2012, to curb
rampant illegal ticket scalping and speculation. (Xinhua/Huang Zongzhi)
One passenger said: "I wanted to book a ticket for Jan.13th, so I telephoned first to make sure that I could get it, and ask whether I could make a telephone booking."
The problem is migrant workers, for whom Internet or telephone booking is either expensive or inconvenient. Online pre-ordering requires registration of an account, which is often not possible for them, so they wind up coming to the station to buy tickets in person.
One passenger said: "I came here early this morning around 4 or 5 o'clock."
Another one said: "We don't know how to surf online and the telephone lines are always busy. We came here early this morning around 6 and have been waiting for tickets till now. If we can't get tickets, how can we go home? "
In order to make it easier for migrant workers to get tickets, railway stations have opened special tickets booths starting from today. Any group of over ten migrant workers can make block bookings up to 12 days in advance.
Wu Zhenrong, deputy director of Shanghai Railway Station, Shanghai Railway Bureau said: "Actually, we already had ticket booths for migrant workers, as most of the passengers here are migrant workers. We have just decided to open more booths to offer them a more convenient way to get tickets. "
Apart from more exclusive group-booking ticket booths, the railways are opening more broadband links and telephone hotlines for regular customers.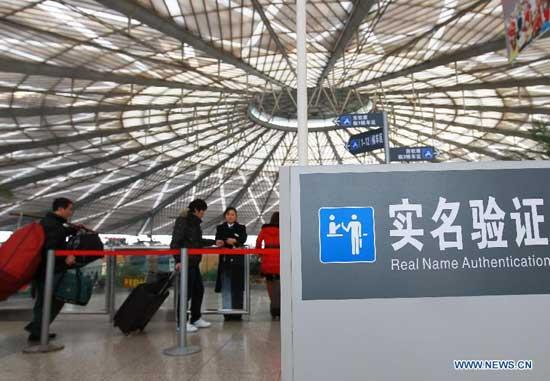 Passengers walk to platforms through a real name authentication system at Shanghai South
Railway Station in Shanghai, east China, Jan. 1, 2012. The real-name system of train
tickets purchase was launched all over the country for all passengers from Jan. 1, 2012,
to curb rampant illegal ticket scalping and speculation. (Xinhua/Pei Xin)