Watch Video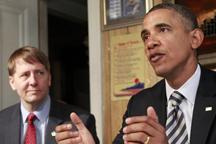 Play Video
US President Barack Obama is moving to install the head of a new consumer financial watchdog, after Republicans blocked the nominee. Despite angering Republicans, Obama says he has an obligation as President, to do what he can do without Congress.
Fighting for the election.
President Barack Obama visited Ohio on Wednesday to focus on the current health of the U.S. economy, and to appoint the country's new consumer financial watchdog.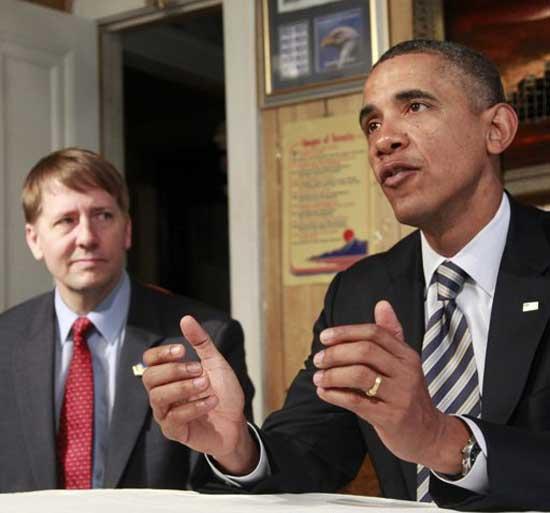 President Barack Obama, accompanied by Richard Cordray, speaks as he visits with William
and Endia Eason, not pictured, Wednesday, Jan. 4, 2012, at their home in Cleveland,
Ohio.
His move comes after his political victory, when he faced down Republicans over a two-month extension of the payroll tax cut. Analysts say that may help Obama's 2012 re-election prospects.
Obama said: "Because more money spent by more Americans means more businesses hiring more workers. And so when I -- when Congress returns, I'm going to urge them to extend this tax cut all the way through 2012, with no drama, no delay. Do the right thing. It is a no-brainer. Lets get it done. Let's pass these tax cuts."
Meanwhile, Obama announced he will bypass Congress, and install Richard Cordray from Ohio as the head of the country's new consumer financial watchdog. He blames Republicans for blocking the nominee.
Obama said: "We kept on saying to Mitch McConnell and the other folks, let's go ahead and confirm him. Why isn't he being called up? Let's go. Every day that we waited was another day when millions of Americans were left unprotected."
Obama also promised to protect those who work hard and common interests.
Obama said: "I know that you're hearing a lot of promises from a lot of politicians lately. Today you're only going to hear one from me. As long as I have the privilege of serving as your President, I promise to do everything I can every day, every minute, every second, to make sure this is a country where hard work and responsibility mean something and everybody can get ahead."
The Obama administration established the Bureau of Consumer Protection after the financial crisis, to strengthen the regulation of the financial industry. But Republicans say the agency itself is a bureaucratic overreach that will hurt the economy.
Related stories
Editor:Zhang Rui |Source: CNTV.CN