Watch Video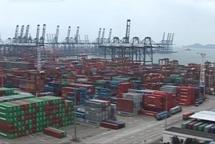 Play Video
The latest trade figures also show a shifting structure both globally and at home. China's trade with the traditional markets of Europe, the US and Japan grew at a slower pace last year, thanks to the general global slowdown. Meanwhile, trade with some new markets saw strong growth. Also - within China - the pace of trade grew in the central and western regions.
Customs statistics show that China's exports to the EU, the US and Japan made up less than 44 percent of the total exports last year, down 1.6 percent year-on-year.
Meanwhile, China's bilateral trade volumes with Brazil, Russia and South Africa were some 84 billion, 79 billion and 45 billion dollars respectively, with the pace all higher than China's overall import and export growth.
Zheng Yuesheng, director of Department of Statistics, General Administration of Customs, said: "ASEAN has passed Japan to become China's third largest trading partner. The total import and export value was nearly 363 billion dollars, up by 23. 9 percent, which was higher than the general growth of imports and exports."
In 2011, trade in the traditionally prosperous southeastern areas, like Guangdong and Jiangsu provinces, remained strong - making up more than 80 percent of the total volume. Last year though, exports in the midwestern provinces also boomed. Chongqing's and Henan's exports increased some 165 percent and 83 percent respectively.
Zheng said: "As processed material trade moved from eastern coastal areas to the mid-west, exports in the mid-west grew very fast, which stimulated the exports of products with high added value."
Last year, imports of resources such as iron ore and raw oil, saw steady growth, while imports of consumption goods like cars grew dramatically. A total of more than 1 million cars were imported in 2011, up 27.8 percent year-on-year.
Editor:Zhang Rui |Source: CNTV.CN