Watch Video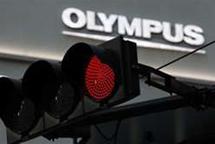 Play Video
Olympus is suing 19 former and current executives, including its current president for damages the company says it has suffered over the massive cover-up of investment losses.
It's still recovering from a major scandal, and now it looks like Olympus could be setting itself up as a major takeover target.
The disgraced equipment maker putting itself in the firing line by saying it would sue 19 of its own executives, with 6 directors of its current 11-member board named in the lawsuit.
Olympus adds all six will resign by March or April.
Analysts say the legal action and management reshuffle leaves Olympus in limbo, and more vulnerable to a takeover.
Firms like Panasonic and Sony are rumored to be interested in the firm.
Investors are also betting that current clean up efforts, like the lawsuit, will help the firm stay listed, and further boost the value of the firm.
Among those named in the lawsuit is ex-Chairman Tsuyoshi Kikukawa.
Kikukawa resigned in October, about two weeks after the scandal broke.
He was subsequently named by an Olympus panel as the driving force behind various schemes to hide 1.7 billion US dollars in losses over a decade.
The same panel also found former EVP Hisashi Mori and ex-auditor Hideo Yamada principal players in the fraud. Both are being sued as well.
Current president Shuichi Takayama has also been targeted.
The company's investigative panel said Takayama was not involved in hiding losses, but failed in his duty as a board member to prevent the fraud.
Related stories
Editor:Zhang Rui |Source: CNTV.CN