Watch Video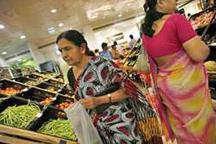 Play Video
Indian consumers will soon be offered more choices. The Indian government has lifted restrictions on foreign direct investment in the country's single-brand retail sector. That means companies like Ikea, Louis Vuitton and Giorgio Armani can open wholly-owned stores in India. That's versus the 51 percent cap on ownership previously in place. Analysts say the move to open up the sector to more competition, will help make Indian enterprises more efficient. It's also hoped the reform will bring about more access to global management styles and technologies.
The world's third largest economy is now a new battlefield for global retailers. Under previous regulations, foreign enterprises were only allowed 51 percent ownership in single-brand retail. That all changed on Tuesday when the government decided to lift full restrictions that will allow full ownership and 100 percent foreign direct investment into the sector.
The new policy will make India a more attractive place to do business for global retailers and will give Indian consumers more access to top brands and products from around the world. Under the 51 percent ownership system, an average of only 45 million dollars of investment inflows came into the country annually. Lawmakers and businessmen alike believe further opening up of the retail market will spur more investment into the sector...bringing with it foreign technology, management know-how and improving the efficiency of Indian retailers through more competition.
But not everyone is excited. India's small retailers fear the new policy will crowd them out, driving them out of business and out of their livelihoods...however, under the new rule, it's mandatory for foreign retailers to source 30 percent of the value of their products from small enterprises which analysts say will have a positive impact on India's job market.
Related stories
Editor:Zhang Rui |Source: CNTV.CN