Watch Video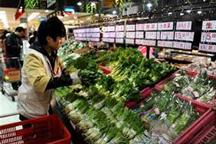 Play Video
For ordinary Chinese residents, the most direct impact of inflation on their lives is the affordability of everyday necessities, such as meat and vegetables. And as the Lunar New Year approaches, rising prices are making the holiday more expensive for many.
This is a typical wholesale farmers market in Beijing.
Yuan Zengchuan has been here since 7 in the morning. He took the bus here to buy some ground pork to make dumplings on New Year's eve.
Consumer Yuan Zengchuan said: "I think pork prices went up a lot recently. Lean ground pork is selling for around 36 yuan per kilogram in supermarkets, I am paying around 26 yuan per kilogram here."
Higher prices mean less demand. Wholesalers say that with current sales volume, they are hardly making enough money to be able to afford to go home for Spring Festival.
Pork wholesaler Han Songbo said: "Rent is going up every year, feed is getting more expensive, therefore prices are higher now. Demand from fast food restaurants and others, have gone down significantly. I don't think I can go home for New Years anymore. I'm not making any money, how can I go home?"
Han says that in 2010 he could sell about 3000 to 4000 pigs per day. Now he only sells about 2000 a day.
Not only are pork prices staying high, but vegetables are also getting more expensive.
At the largest farmers market in Tianjin, everyday vegetables like cucumbers, beans and tomatoes have increase 2-4 yuan per kilogram since the beginning of December. The price of hot peppers has gone up 8 yuan per kilogram. Retailers say rising prices have less to do with the holidays approaching, and more with the cold weather in Northern China.
One vegetable retailer said: "All vegetable prices are going up, nothing is getting cheaper. Less people buy now so we sell less. It has nothing to do with the holidays. It's cold now so nothing grows."
Due to the cold weather, green vegetables in particular are in low supply. So many people are having to stick to cheaper vegetables like cabbage and potatoes.
Editor:Zhang Rui |Source: CNTV.CN