Watch Video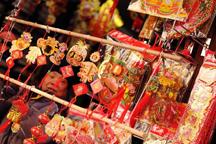 Play Video
Here in China, the countdown to the Year of the Dragon has begun in earnest. With just two days left to prepare, Chinese shoppers are spending up big, to ensure an auspicious start to the new year. Many are snapping up all manner of festive decorations, to ward off evil spirits and attract good fortune. And pretty much anything that features a certain fire-breathing creature, is guaranteed to sell like hotcakes.
The year of the dragon is breathing new life into this mystical creature.
This year, traditional red lanterns, paper-cuts and dragon soft toys are topping the shopping lists. China's small commodities vendors have endured a difficult Year of the Rabbit. But now, sales of toy dragons and knick-knacks of every description are reviving lacklustre sales.
This man, who owns a store selling decorations, says his sales have doubled since January.
Store owner Wan Taiwei said: "We all hope we can have good fortune in the Year of the Dragon. It is a good year and we Chinese all like dragons because it is a symbol of China."
The Lunar New Year is traditionally the best season for retail sales in China. Millions of Chinese return to their home towns, and spend hard-earned money on consumer goods, food and gifts. Data shows last year's consumer spending in the retail and dining sectors rose to 61.3 billion U.S. dollars.
Alistair Thorton, analyst for HIS Global Insight said: "Traditionally in China, there is a huge surge in demand running up to the Chinese new year, as everyone and their mother goes and buys a lot of white goods traditionally and takes them back to the countryside, which is why we see an uptake in retail sales over these few weeks."
However, some say the Year of the Dragon may also bring uncertainties to China.
Thorton said: "I think the Chinese economy in the Year of the Dragon is going to face some severe challenges. We're seeing growth slowing quite significantly at the moment, led primarily by the property market, which is undergoing a fairly severe correction. And on top of that, you've got the eurozone crisis, which threatens to blow up at any stage now. And the impact on China from that could be quite significant. "
With the Year of the Dragon getting off to a powerful start - at least for the retail sector - many are hoping the Chinese economy will continue to breathe fire in the year to come.
Related stories
Editor:Zhang Rui |Source: CNTV.CN