Watch Video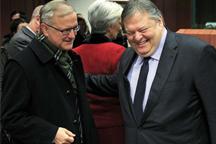 Play Video
Emergency meetings in Brussels have become commonplace as Greece misses deadline after deadline to get its finances in order and secure another bailout to avoid a disorderly default.
CCTV correspondent Jack Barton reports that the latest meetings has again seen Greece failing to sign off on agreements with coalition partners and private creditors.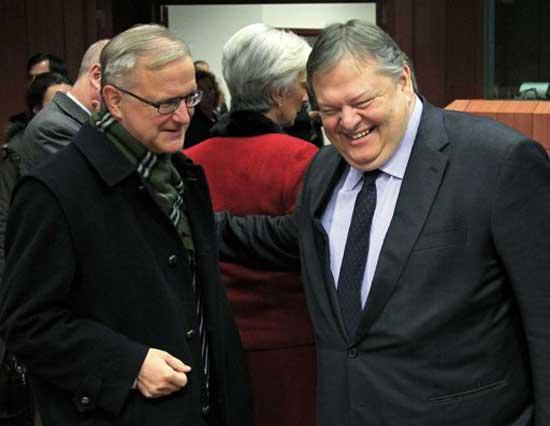 EU Monetary Affairs Commissioner Olli Rehn (L) talks with Greece's Finance Minister Evangelos
Venizelos during a Eurogroup meeting at the European Union council headquarters in Brussels
February 9, 2012. Euro
EU finance ministers are gathering in Brussels in the hope of finalizing a second bailout for Greece. Athens has passed another deadline with no deal achieved with private creditors being asked to take a 50 percent write-down on the value of their bonds. More importantly it has failed to secure agreement with coalition partners on new austerity measures.
At a meeting that ran into the early hours of this morning here was reported acceptance of further public sector jobs cuts and lowering the minimum wage. The sticking point remains pension reform. All those reforms are precondition to getting further access to rescue funds. But for the EU, keeping Greece in the Euro remains a priority.
Jose Manuel Barroso, president of European Commission said: "We are in a very decisive moment regarding the future of Greece and the future of the Euro. We want Greece in the Euro".
However, some heads of state and ministers have grown frustrated at Greece's lack of progress in which job cuts have been postponed, privatization has barely begun and deficit targets are routinely missed. Greece blames a deeper-than-expected recession amplified by the very austerity measures required by its lenders. But some officials including the deputy of the European Commission, the Dutch prime minister and his country's former finance minister have begun opposing a second bailout.
Wouter Bos, former Netherlands Finance Minister said: "The illusion that we will get all our money back should no longer be kept alive and the longer we take to accept that truth the higher the price we pay so let's be honest about our losses and take them quickly"
Reporter: "If Greece does not get a second bailout it will have no choice but to default late next month, which will almost certainly result in that country leaving the Euro. But most EU member states still support another round of rescue funds in order to ring fence Greece".
The main concern now is that a disorderly default in Greece could spillover into the much larger economies of Spain and Italy. That would have implications not just for Europe but the entire global economy. Without new funds Athens will not be able to service its current debt. It owes creditors 15 billion Euros next month. As finance ministers meet they know only one thing is certain: time is running out.
Related stories
Editor:Zhang Rui |Source: CNTV.CN