Watch Video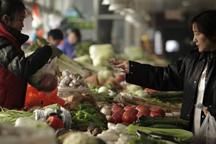 Play Video
Like we've mentioned, January's higher than expected inflation was mainly driven by food prices, which jumped 10-and-a-half percent year on year, accelerating from the previous month's 9.1 percent rate.
Surging food prices renewed pressure on the government to control living costs, especially for low-income earners who are the most sensitive to changes in the food price. Our reporter Guan Xin takes a closer look at the impact of inflation on one low-income earner in Beijing.
A customer pays for her vegetables at a market in Beijing January 12, 2012.
Mr. Zhu repairs shoes to make a living. Moving from a village in Anhui province to Beijing 20 years ago, he worked as a cobbler every day, hoping the skill would afford him a better life in the city. But with inflation stubbornly high, he's starting to worry about how he can pay his bills.
Zhu said: "Things are getting more expensive. Every month, after paying for food and rent, I can only save a few hundred yuan. But what can I do about it?"
During the good times, Mr Zhu can make a hundred yuan a day. But now when the weather is cold, sometimes there are no customers at all. Mr. Zhu says although the job is tough, he still persists in chasing the dream of a better life in Beijing because he admires the prosperity of the city. But with a low income and rising living expenses, a better life seems to be drifting further away.
Food prices climbed 10.5 percent in January from one year earlier, while non-food prices increased by 1.8 percent.
The price of China's staple meat, pork, rose by 25.0 percent; and vegetables by 23.0 percent.
Those increases have eased from a 11.8 percent year-on-year increase in food prices for the whole of 2011.
But still, for low-income earners, who spend a greater portion of their money on food, the impact of rising prices is felt even more.
Economists say, people's incomes need to grow faster than the prices of the essentials they need to buy. And they warn that this is a fundamental issue that needs to be addressed, in order for the Chinese people to live a better life.
A woman shops for food at a supermarket in Hefei, in central China's
Anhui province, Thursday Feb. 9, 2012.
Editor:Zhang Rui |Source: CNTV.CN