Watch Video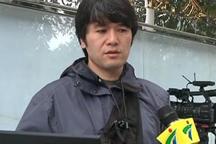 Play Video
The dispute involves iPads, China, IP rights and courtroom drama. Combined, it's a reporter's newsworthy dream -- so it's not surprising that media in China and abroad are following the case's every development. Have a listen to what different outlets are saying.
Japanese reporter: "Lots of people in Japan use Apple iPads. So we are interested about the case"
Chinese reporter with Xiaoxiang Morning Herald said: "First, Apple is a big name. It has great influence throughout the world. Besides, this case is considered one of the most important lawsuits in the Chinese IP development. It may also strengthen Chinese people's consciousness on Intellectual Property rights ."
Chinese reporter with Sina.com said: "This case may have great impact on iPad sales in China, so lots of netizens are following it. They are interested in iPad future sales in China, and whether iPad in China will have a new name or not."
Editor:Zhang Rui |Source: CNTV.CN