Watch Video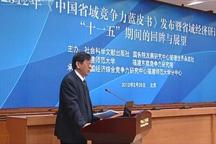 Play Video
China's top think tank has ranked all of the nation's provinces and regions in terms of their competitiveness over 2006-2010 period. The gap between western and eastern regions narrowed, but the report also identified structural problems.
Data shows western China is catching up to the east in terms of its comprehensive competitiveness, which measures a province or region's ability to attract resources, market competitiveness, and its ability to boost growth in nearby areas. It's not just a measure of GDP, instead, it gives a complete valuation of a region's macro economy, and other factors such as, environmental sustainability, knowledge economy and government functions.
Professor Li Jianping, chief editor of China Domestic Competitiveness Bluebook said: "The valuation system weighs not so much on GDP, it gives heavier weight to government functions, macro economy, and especially knowledge economy."
The index which measures economic inequality shows China's regional economic gap has closed by 75% in the 5 years until 2010. Municipality of Chongqing in the west rose the fastest, up 6 positions. Experts say this is thanks to government's strategy to develop western China.
Li said: "The central government's policy to develop western China is very effective during the 11th 5-year-plan. Before, western China was far behind cities in the east, but now the gap is closing. All 31 provinces are developing, but the west grows quicker as its base number is smaller than the east. During this period, the west has grown over 2%, whilst the east has grown less than 1%. This says the gap is closing. "
However, other experts think problems still lie behind the quick urbanization process.
Professor Ni Pengfei, director of Center for City & Competitiveness, CASS said: "First problem is they only focus on development of central cities and ignore surrounding places; second, they only focus on real estate development, rather than other service industries. Third, they only focus on shifting migrant workers, rather than settling migrant workers into cities; fourth, only focusing on infrastructure investment, rather than building industries supporting the real economy."
Experts warn that failure to attend these problems will further enlarge the gap between rich and poor areas.
Editor:Zhang Rui |Source: CNTV.CN