Watch Video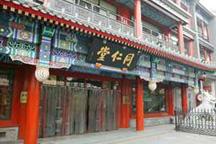 Play Video
The iPad and Qiaodan disputes are putting Chinese trademark law in focus. Critics say that Chinese law favors those who register trademarks first and squabbles over them can prove complicated to unravel. But, other legal experts say trademark registration is a common strategy in global commerce -- that Japan, the US and Germany have similar laws that protect their own companies. Have a look at what one local newspaper found regarding Chinese trademarks abroad.
According to a survey on the website of 21st Century newspaper, many Chinese brands have been registered by companies in other countries. Take "Tong Ren Tang" -- a traditional Chinese medicine chain for example. Its name has been trademarked by unrelated companies in Japan, the U.S., Holland, Sweden and many more since 1980s. The famous Chinese candy brand, "White Rabbit," has also been registered in Japan, the Philippines, Indonesia and Britain.
One South Korean company has even registered several Chinese brands. The tea firm registered Longjing tea, Xinyang Maojian and Biluochun as their own trademarks in South Korea. Different brands of Chinese tobacco including Hongtashan have been registered by a Philippine businessman in his country.
Even "Shao Lin Si" -- a Buddhist temple in China with hundreds of years of history, has been registered more than a hundred times globally, with no relation to the real one in its country of origin.
The mentioned Chinese companies may not be as big or popular as the iPad or Michael Jordan, but they face the same rules in other countries nonetheless.
Related stories
Editor:Zhang Rui |Source: CNTV.CN