Watch Video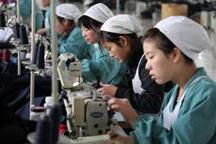 Play Video
The development of China's private companies has been firmly in the spotlight during this year's legislative sessions. It's not been an easy journey so far and the road ahead looks even more challenging.
Compared to dominant state-owned enterprises, the vast majority of China's private businesses are more vulnerable to economic headwinds. As Lv Yao tells us, private sector players are feeling like they're trapped between a rock and a hard place.
Increasing costs, climbing raw material prices, and heavy taxation, all these cast a shadow on China's private sector players, especially medium and small sized enterprises. Wei Feiyan, a NPC deputy, also a medium-sized private pharmaceutical company owner, is feeling the pinch.
Wei said: "Medium and small sized enterprises have been experiencing comprehensive pressure, such as soaring labor, raw material and energy costs. Especially small enterprises, they do not have backup from the government and they are usually not strong enough to shield from difficulties like other large-scale state-owned enterprises. The increasing costs and relatively high tax put a significant number of private enterprises on the verge of surviving or dying."
Added to this is the tight credit line for medium and small sized private enterprises.
Yang Tianfu, Chairman & CEO of Tech Full Electric said: "It is wrong to say that China's banks should take responsibility for the survival of medium and small sized private enterprises. There are too many of them in China, there is no way the banks can help them all. Survival of enterprises is supposed to be determined by the market, and they cannot only rely on governments and banks. It depends on its own innovation, product quality and good ideas."
Small private businesses can only survive by growing bigger for this approach to work. For China's private sector, the course of surviving and thriving in the long-run may resort to quality enhancements and brand publicity.
Editor:Zhang Rui |Source: CNTV.CN