Watch Video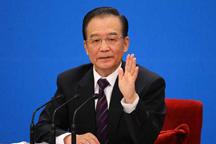 Play Video
Premier Wen says about China's property sector: prices haven't fallen nearly enough to be considered reasonable, and policy curbs on the sector will stay where they are.
He warned of the chaos that would come with the bursting of the property bubble. I want to get your thoughts on this shortly, but let's take a quick look at what Wen Jiabao said this morning.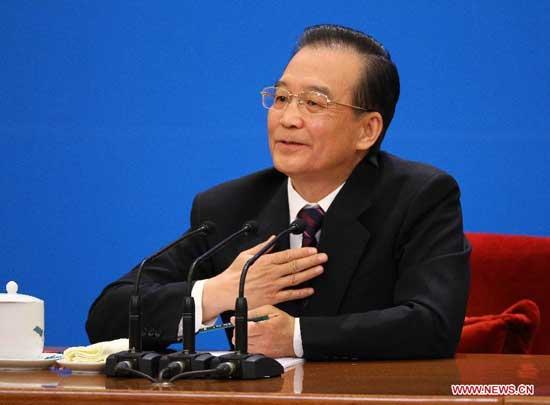 Chinese Premier Wen Jiabao speaks during a press conference after the closing meeting
of the Fifth Session of the 11th National People's Congress (NPC) at the Great Hall
of the People in Beijing, capital of China, March 14, 2012. (Xinhua/Chen Jianli)
Premier Wen reiterated the central government's determination to continue its tough regulations on the property sector. He says housing prices should correlate to people's incomes, construction costs, and that profits should be reasonable too. China's real estate sector has grown in leaps and bounds recent years, creating enormous economic growth and profitability but also skyrocketing property prices to the anger of ordinary homebuyers.
Wen said: "I can say clearly that home prices are far from returning to reasonable levels. Therefore, regulation should not be loosened. Otherwise it will undermine our achievements and cause a chaotic situation on the market. That would hamper the industry's long-term health and stable development."
Wen warns blind development will create bubbles in the market, and when it finally bursts - there will be a serious drag on the overall economy. While highlighting China's strong housing demand, the Chinese premier also says a mindset shift is also necessary.
Wen said: "China has a large population base, and it is still in the stage of industrialization and urbanization. Therefore demand for housing is rigid, and will be rigid. In terms of direction, we should encourage more people to rent."
Wen admits the property market curbs won't be easy, as it affects the interests of financial institutions and property developers, as well as local government's revenues.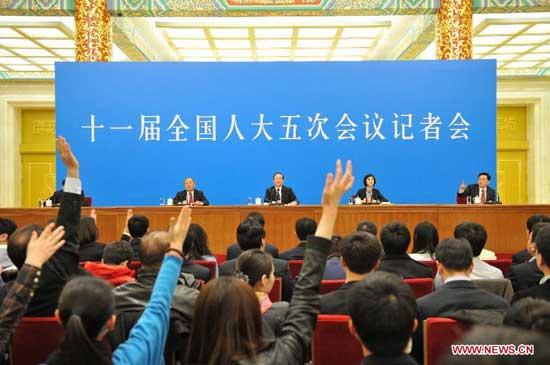 Journalists raise hands to ask questions during a press conference which Chinese
Premier Wen Jiabao attended after the closing meeting of the Fifth Session of the
11th National People's Congress (NPC) at the Great Hall of the People in Beijing,
capital of China, March 14, 2012. (Xinhua/Huang Jingwen)
Photo taken on March 14, 2012 shows a press conference which Chinese Premier Wen
Jiabao attended after the closing meeting of the Fifth Session of the 11th National
People's Congress (NPC) at the Great Hall of the People in Beijing, capital of China.
(Xinhua/Chen Jianli)
Chinese Premier Wen Jiabao reacts during a press conference after the closing meeting
of the Fifth Session of the 11th National People's Congress (NPC) at the Great Hall
of the People in Beijing, capital of China, March 14, 2012. (Xinhua/Wang Jianhua)
Chinese Premier Wen Jiabao reacts during a press conference after the closing meeting
of the Fifth Session of the 11th National People's Congress (NPC) at the Great Hall
of the People in Beijing, capital of China, March 14, 2012. (Xinhua/Jin Liwang)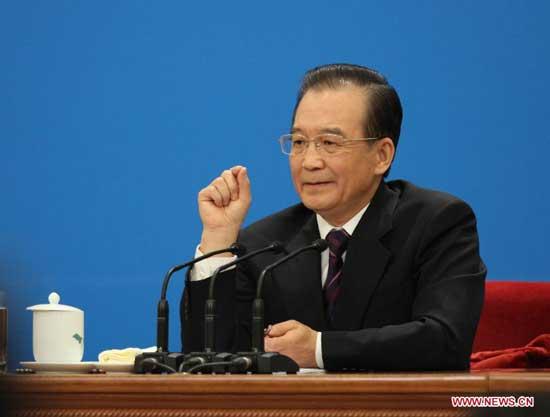 Chinese Premier Wen Jiabao speaks during a press conference after the closing meeting
of the Fifth Session of the 11th National People's Congress (NPC) at the Great Hall
of the People in Beijing, capital of China, March 14, 2012. (Xinhua/Chen Jianli)