Watch Video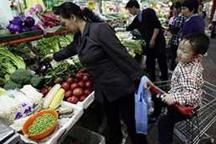 Play Video
Earlier this week, China hiked fuel prices by the most in 33 months, rising concerns that inflation could rebound after a long campaign against rising prices. Although some analysts say the effect will be minimal, Laura Luo finds out that some consumers are worried that the price of their everyday purchases will rise as the effects of the fuel hike trickle through the supply chain.
Higher fuel prices mean higher logistics costs as gas and diesel prices are more expensive for trucks delivering goods.
Although it has been just two days after the NDRC announced the fuel price hike, Beijing's residents are concerned that the price of their everyday purchases, such as vegetables will rise as well.
Beijing resident said: "I think vegetable prices become a little more expensive these two days. Compared to previous two days, it has risen by a little bit, but still acceptable. "
Beijing resident said: "Vegetable prices are unstable, in recent times, and they've risen a little bit."
Experts say the rise in fuel prices will push up the cost of production and transportation in long term, but it won't impact CPI in the short term.
Professor Zhu Ning with Shanghai Jiao Tong University said: "In mid-to-long term, oil prices will flow through to the transportation industry, and penetrate to agricultural products and the price of pork, and these areas will give stronger push to CPI in long run."
Reporter: "It's still too early for the rise in transportation cost to be reflected in food prices, but in this local farmer's market, I happened to notice that some vegetable prices have gone up, although just by a little bit. Some farmers say, they are struggling to make their ends meet. "
Beijing vendor said: "But I can't sell it for a higher price, as it will push away customers. I haven't made money these few days."
Most other vendors say wholesale prices haven't changed much, but they are expecting bigger price hikes in wholesale prices as higher fuel costs hit the production process.
Professor Zhu said: "The instant rise in food prices reflects people's concerns over the rise of global crude oil prices, and also concerns over the potential rise in their own living costs."
To ease inflation concerns, government decided yesterday to subsidize farmers by 210 yuan or $33 dollars per hectare, to make up for the rise in production costs.
Editor:Zhang Rui |Source: CNTV.CN