Watch Video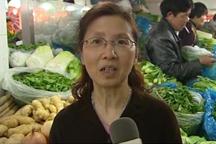 Play Video
With food prices accounting for nearly one-third of the CPI basket Chinese consumers pay the most when inflation spikes. But they say they're getting used to rising costs.
Shanghai resident Wu Xiujuan said, "I guess I'm sort of numb to it, but you have to eat every day, so you have to buy."
Shanghai resident Wang Huirong said, "I went from not being used to the high costs at first to gradually accepting them. You have to eat, it's unavoidable."
Related stories
Editor:Zhang Rui |Source: CNTV.CN