Watch Video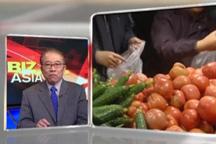 Play Video
China's inflation rate rebounded sharply in March to 3.6 percent, driven by rising food prices. The data surprised investors who had bet on cooling price pressures to give the central bank more room to ease monetary policy.<Full story>
For more on the latest CPI figures, we are joined by Professor Huo Deming, from the National School of Development at Peking University.
Q1: China's CPI increase in March is slightly higher than that of February, but analysts don't seem to be too worried, they say it's mild. Do you think the government should be worried about a rebound in inflation?
Q2: Analysts say the CPI reading is mild enough that the central bank still has room to ease monetary policy. When and what do you think the next move to be, if there is one?
Q3: We have higher consumer inflation but lower wholesale inflation. China's Producer Price Index, or PPI, fell 0.3 percent in March from a year earlier. It is the first time for the PPI to see negative year-on-year growth since December 2009. It would seem that inflation isn't the biggest concern ahead, but rather a cooling economy, weakening demand. How worried should we be?
Editor:Zhang Rui |Source: CNTV.CN