Watch Video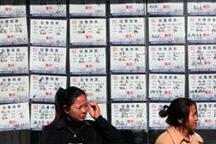 Play Video
The small rebound China's property market saw in March wasn't enough to save a dismal first quarter for the sector. The average price of new homes in Beijing fell nearly 20 percent in the first quarter, as the government's cooling policies continue to weigh on the market. Sales rebounded marginally but experts say it wasn't enough to change the direction of the downward trend.
According the Beijing Real Estate Association, new home prices in Beijing fell 19.4% year on year in the first quarter to 12,326 yuan per square meter. Not including affordable housing, the average price of homes fell 19.4% to 19,516 yuan per square meter. The largest decline in price was seen around Beijing's fifth and sixth ring road and in surburban areas. Among the top 10 projects in terms of sales, prices fell in 8 projects, while the other 2 saw higher prices.
Chen Zhi, secretary general of Beijing Real Estate Association said, "Judging from current situation, these projects are also likely see even lower prices in the future. The current rebound is a correction, it won't change the downward trend."
A total of 16,000 units were sold in the first quarter, rebounding mildly from the fourth quarter last year. Transaction volumes are at their lowest level in five years.
Chen said, "The rebound is really a really minor one from the low transaction volume in the fourth quarter last year. It's weak. We cannot say the Beijing market is picking up judging by the sales."
A separate report says more than 80 percent of sales in the first quarter were for homes beyond the fifth ring road where homes are less expensive compared to the inner ring areas. Therefore, it led a fall in the average price of homes.
Editor:Zhang Rui |Source: CNTV.CN