Watch Video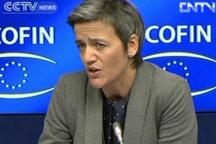 Play Video
Denmark's finance minister says she and her EU counterparts are close to a deal which would force banks to build up bigger capital cushions against financial shocks.
Denmark's finance minister Margrethe Vestager said, "We have been working with the case of definitions of liquidity, we have been working with the macroprudential tools. We are working with the architecture of how to make ends meet since what we are going to do is implement Basel deal due to European reality making, stating, just the obvious that in European context we are implementing for 8,300 institutions. We had a good discussion, there was a very constructive tone in the Council and I am looking very much forward the 15th.
Margrethe Vestager says only a few "technical issues" need to be ironed out before the ministers' next meeting in two weeks. The EU is in the process of writing an international agreement on capital defences for banks into European law, that regulators hope will prevent a repeat of the 2008 financial crisis.
The so-called Basel III deal would force lenders to boost their highest-quality capital gradually from two percent of risky assets they hold to seven percent by 2019. An additional 2.5 percent would have to be built up in good times.
Related stories
Editor:Zhang Rui |Source: CNTV.CN