Watch Video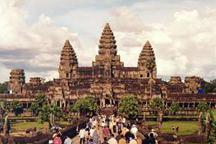 Play Video
Angkor Wat and its temple site, chosen as a world heritage by UNESCO, is Cambodia's tourist beauty spot number one which attracts an increasingly large number of international visitors. The country relies to a great extent on tourism for its GDP growth, and the tourist sector is the country's second source of hard currency after the textile industry.
Let's visit the kingdom in Southeast Asia to see how Cambodia is planning to win a bigger share from the global tourism market.
In the movie Tomb Raider, Angkor Wat in Cambodia shelters a secret power, and in reality, here lies also the secret power of the country's economic growth.
Cambodia's tourism minister Thong Khon said, "Angkor Wat attracts 60 percent of tourists to Cambodia, and we see this number hitting 4 million in 2020."
Cambodia is still longing for more guests, as tourism is crucial to boost its GDP growth.
Thong Khon said, "Tourism attracted almost 3 million people here last year, bringing 1.6 billion U.S. dollars. The income accounts 12 percent GDP, providing 400 thousand jobs for local people, which contributed to eliminating poverty in Cambodia."
According to The Economist and the International Monetary Fund IMF, Cambodia ranks among the world's top ten countries in terms of annual GDP growth. And tourism is the country's fastest growing industry.
From Angkor Wat to the capital of Phnom Penh, and the beaches in Sihanoukville, the government is enhancing its infrastructure for tourists all the way down south. Old French colonial buildings have turned into boutique hotels, and destinations on both ends of the country are connected by new flights.
As the country's biggest source of Foreign Direct Investment, China is also an important contributor to tourism in the kingdom. Cambodia hopes to attract one million Chinese visitors in 2020. With lots of Chinese travel groups leaving the Philippines, Cambodia might be the closest alternative for them.
Editor:Zhang Rui |Source: CNTV.CN