Watch Video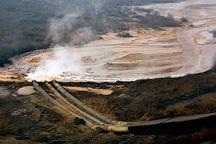 Play Video
The extraction of rare earths is not only straining rice harvests, but over-exploitation has left deeper and more serious footprints on the environment. The Chinese government is becoming more aware of the environmental consequences from indiscriminate mining, but experts say however that time will be needed before the environment can eventually recover.
Lush vegetation in the past is now a surreal moonscape of dirt and mining remnants. Ganzhou, in Jiangxi Province, is known for its abundant reserves of rare earth - the coveted minerals used in everything from mobile phones to electric cars.
During 40 years of exploration, the production of rare earth in this region has accounted for nearly 70 percent of the country's total output. This has left some locals extremely wealthy, but at steep cost to the environment.
Most of the rare earth is exployed in a non-sustainable way. It involves drilling holes into the ore deposit, or using explosives to extract the precious minerals.
Jia Yinsong, chief of rare earth office of Chinese Ministry of Industry & IT, said, "The downright truth is this: our natural environment IS being seriously damaged by the over exploitation of rare earth. It has damaged paddy fields, clogged and polluted rivers, and caused a number of landslides. The potential risk is huge."
Xu Xinfeng, deputy director of Ganzhou Mining Administration Bureau said, "The region has more than 300 discarded mining areas. The restoration costs are estimated to total 2.6 billion yuan. That's a huge sum of money."
But it's not just a monetary figure. Only time will tell whether the environment can recover - and it's a long period of time to wait. According to official estimates, it would take 70 years to tackle Ganzhou's 190 million tons of ore slag. That's in addition to the daunting task of recovering nearly 100 square kilometres of damaged forests.
Jia said, "About four billion yuan has been used to mend the environment damaged by rare earth extraction. We have inspected mines and refining plants, shut down or suspended production in those with illegal operations. The government has announced a list of 56 qualified companies to produce rare earth. It is true that we've done a lot in this, but we know this is far from enough."
Experts are calling for stronger supervision and regulation over the industry. They say indiscriminate exploitation is also harmful to the growth of the industry and the sustainable development of the international market.
Related stories
Editor:Zhang Rui |Source: CNTV.CN