Watch Video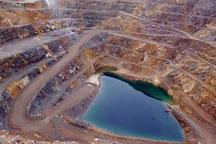 Play Video
China is the world's largest rare earth producer as well as exporter. During peak times, the country provides an astounding 97 percent of the world's rare earth supply. From 1990 to 2005, rare earth exports from China increased 10-fold, while the average price on the market has plunged 50 percent. But, China's export boom is not a one-sided success story, along with big business, comes some challenging side-effects, especially for local farmers.
50-year-old Li Richun's family has been farming in this village for many generations. The village is located in Ganzhou city in China's Jiangxi Province. But now, nothing grows anymore on this piece of land.
Li's wife said, "I can't farm on the land, or drink the water anymore."
Li Richun said since rare earth was found in the nearby mountain, everything has changed.
Chen Zhenghua also lives in the village. He said nothing has grown on this farm land in almost 8 years now.
Chen said, "It used to be a nice farm land, now all the trees that I planted have died. Nothing has grown in the past 8 years."
There are hundreds of hectares of land just like this. Some rice plants can grow on these lands but they fail to produce edible rice.
Son of Li said, "Sometimes rice plants can grow, but they stay green and don't produce any rice."
This is a paddy field which was planted by villagers last year. But you can only see the green rice plants and no harvests can be made.
Related stories
Editor:Zhang Rui |Source: CNTV.CN