Watch Video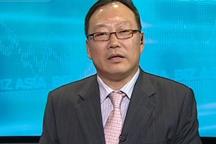 Play Video
China and Russia have vowed to further boost their cooperation. Chinese President Hu Jintao held talks with his Russian counterpart Vladimir Putin on Tuesday. The two leaders exchanged their views on major international issues and said a stable and healthy momentum was reached in their bilateral ties. President Hu also expressed his welcome to Putin 's state visit to China and to attend the forthcoming Shanghai Cooperation Organization Summit in Beijing. Full story >>
For more on Putin's visit and the cooperation between China and Russia, we're joined by Mr. Li Yong, Deputy Secretary General of the China Association of International Trade. Mr. Li, thank you for joining us tonight.
Q1. Let's begin on the energy front....talks between the two countries on this issue have been in a stalemate for a long time. China's Vice Premier Li Keqiang proposed a new model for energy cooperation during his visit to Russia in April, and Russian President Vladimir Putin is going to extend the talks during his visit in China. What do you think is the likely outcome this time? Will there be any significant progress made this time on this issue...?
Q2. Mr. Li, China-Russia bilateral trade continues to grow...last year it reached nearly 84 billion US dollars. There's also a medium-term target of trade reaching 100 billion dollars by 2015, and 200 billion dollars by 2020. Do you think this goal is realistic given what's going on in the global economy right now?
Thanks. For more on the outcome of today's meeting between Chinese and Russian presidents.
Related stories
Editor:Zhang Rui |Source: CNTV.CN