Watch Video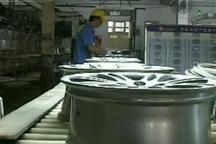 Play Video
One export sector in China is beginning to feel the pinch of new anti-dumping duties set in place by Australia.
Anti-dumping duties against Australian imports of alloy wheels from China have taken effect. Companies which export from China face fees ranging from 2% to as high as almost 88%.
Local and foreign firms which produce alloy wheels for export now have to rethink their strategies and reshuffle their supply chains to cope with this new challenge.
At the heart of the issue is the result of an Australian Government investigation which claims that alloy wheels coming from China are unfairly under-priced. Investigators say that Chinese manufacturers receive various forms of government assistance such as tax breaks and cheap aluminum raw materials from state-owned smelters.
But some well-known companies here including YHI Shanghai disagree with the findings, saying that they pay the same proportion of raw material costs and in fact, pay more for aluminum in China. They are also questioning whether the measures accurately target the proper product segments.
Economists also say that many of the alleged government supports do not exist.
Mei Xinyu, economist of Department of Trade, MOFCOM, said, "Most of these accusations are not true. Some measures were already cancelled 5-10 years ago. The accusation of Chinese wheel manufacturers getting cut-price aluminum from government-owned smelters is totally untrue, our state-owned enterprises are not a charity. After the reforms they are highly market oriented. They can't afford to give extremely low prices to wheel manufactures."
Reporter: "There's a lot of talk right now on the possible repercussions stemming from this latest anti-dumping duty from Australia. Even though exports to Australia only accounted for a very small portion of Chinese exports. What is clear though is that more than the actual challenges to this specific sector, this represents a risk most, if not all, Chinese exporters have to face."
Related stories
Editor:Zhang Rui |Source: CNTV.CN