Watch Video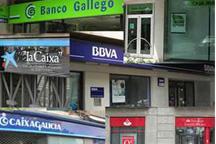 Play Video
The pain continues with ratings agency Fitch slashing the long-term credit ratings of another 18 Spanish banks. This comes just one day after Fitch downgraded the country's two biggest banks, Santander and BBVA. It's also been just a week after the agency cut Spain's sovereign ratings from A, to triple B.
After Fitch downgraded 18 domestic banks, including CaixaBank, Bankia, Banco Popular Espanol, and others, Spain's benchmark borrowing rate rose to its highest level since the country joined the euro currency.
The country's 10-year bond yield traded at 6.78 percent on Tuesday.
Investors still continue to find more questions than answers in the country's decision to seek help for its ailing banking sector. Spain agreed last weekend to accept an up to 100 billion euros European bailout for its banks, but investors are worried it will not solve the country's problems as the government may have trouble paying the money back.
Experts caution that there are still very tough times ahead for the ailing economy.
Professor Sandalio Gomez with IESE Business School said, "The Spanish government is happy because they have had a narrow escape out of big problem. But we will have two or three difficult months ahead of us. June is going to be a very important month because of all the meetings that are going to be held. Maybe that will bring some trust back to markets mid-term. "
Fitch said in a statement that its downgrade of the banks was a result of a previous downgrading of the Spanish sovereign debt on June 7.
Moody's Investors Service rates Spain A3, and Standard and Poor's rates the country BBB-plus. Those ratings, as well as that of Fitch, carry a negative outlook.
Editor:Zhang Rui |Source: CNTV.CN