Watch Video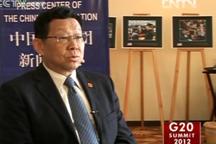 Play Video
The G20 summit this year includes a trade ministers' meeting to talk about the Doha Round, the latest round of trade negotiations among WTO members to reform the international trading system and introduce lower trade barriers. China hopes progress will be made in the Doha Round talks, which have been launched more than 10 years ago but stalled due to disagreements between developed and emerging countries.
Chinese Trade Minister Chen Deming however said in Mexico that China supports the idea of including trade facilitation into the early commitments of the Doha Round, and says China also supports the membership of some of the least developed countries in the WTO.
But given the challenging political and economic environment, Chen said final results of the Doha talks won't be reached before the end of the year, as many countries are holding major political elections over the next few months.
Chen said, "China supports the proposal made by some countries to include trade facilitation into the early commitments of the Doha Round. China has always supported trade facilitation. But we should not ignore other suggestions made by other countries. China hopes all participants will be committed to complete the Doha Round of talks. We will discuss this during the G20 summit and may reach some positive agreements."
Editor:Zhang Rui |Source: CNTV.CN