Watch Video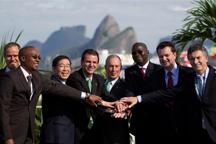 Play Video
It's the largest U-N conference ever to take place in Brazil- the Rio plus 20 is getting underway on Wednesday. More than 100 heads of state are expected to attend the conference to discuss "sustainable" development.
Security has already been stepped up at the Rio +20 site in Rio de Janeiro as people await the World's dignitaries arrival tomorrow to begin to debate what promises to be a more affirmative stance on Sustainable Development.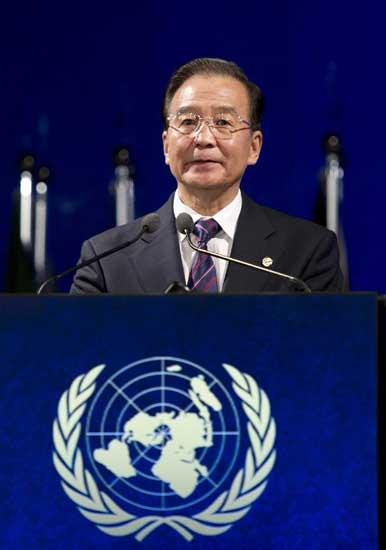 Chinese Premier Wen Jiabao delivers a speech at the UN Conference
on Sustainable Development (Rio+20 summit) in Rio de Janeiro, Brazil,
June 20, 2012. (Xinhua/Li Xueren)
The day began with members of the Brazilian government in a jubilant mode after they finally got delegates to agree to the negotiation document by the deadline they had promised
Antonio Patriota, minister of External Relations, said, "For me it's a personally satisfying to see a constructive spirit in which the different participants demonstrated flexibility and a desire to collectively assume responsibility in this negotiations process. I consider that the spirit of Rio is alive again 20 years later."
Disagreements abound, the Chinese secretary general of the conference Sha Zukang, told me that one of the main difficulties is getting developed and developing countries, with different economic setups to agree to the same proposals.
Zukang said, "You know all of us have to change out mindset to switch to a green economy at the same time to go through to a green economy there is some extra costs which are technology dissemination, transfer, financing you know and capacity building."
Reporter: "In a matter of hours it will be difficult to get close to this building as security will tighten as some of the most important heads of State will arrive here at Rio +20 to begin to debate which promises to produce a definitive world Sustainable Development plan."
Mr Sha Zukang has made it clear to delegates and participants despite our difference we all have a common goal.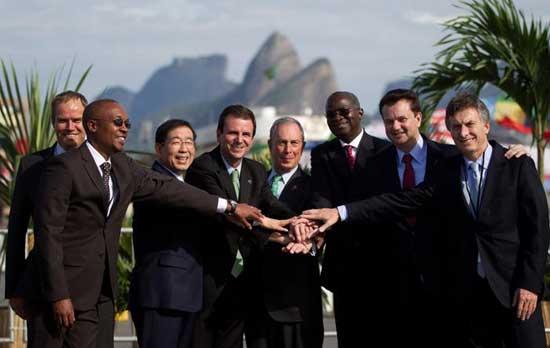 Mayors from left to right, Ecktar Wuerzner of Heildelberg, Franklyn Tau of Johannesburg,
Won Soon Park of Seoul, Eduardo Paes of Rio de Janeiro, Michael Bloomberg of New York,
Babatunde Fashola of Lagos, Eduardo Kassab of Sao Paulo and Eduardo Macri of Buenos Aires
pose for a photo during the Rio+C40: Megacity Mayors Taking Action on Climate Change, a
parallel meeting to the UN Conference on Sustainable Development, or Rio+20, in Rio de
Janeiro, Brazil, Tuesday, June 19, 2012.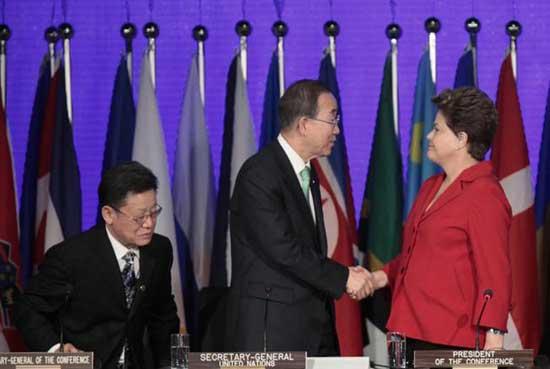 UN Secretary-General Ban Ki-Moon (C) shakes hands with Brazil's President Dilma Rousseff
(R) as Sha Zukang, secretary-general of the Rio +20 looks on at the opening of the Rio+20
United Nations sustainable development summit in Rio de Janeiro June 20, 2012.
Related stories
Editor:Zhang Rui |Source: CNTV.CN