Watch Video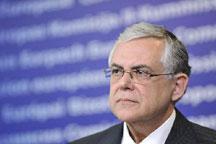 Play Video
EU summit will be held in Brussels this coming Thursday and Friday, but there will be a noticeable absence from key representatives of one country at the epicenter of the debt crisis.
Both Greece's new prime minister and the incoming finance minister are facing health issues and their illness means the two leaders will miss the EU summit later this week. The news was a blow to Athens' attempts to ease the terms of its bailout, and also dashed hopes significant action would be taken at the summit to resolve the situation in Europe.
Prime Minister Antonis Samaras is currently recovering from an eye surgery while Finance Minister Vassilis Rapanos is in the hospital as well after suffering from nausea before he could be sworn in as finance minister. There is a Plan B though, Greece is reportedly sending its foreign minister and the outgoing finance minister to represent the country at the summit.
In any case, Greek officials are expected to ask for the terms of the 130 billion euro bailout to be loosened. The unexpected turn of events forced Greece's "troika" of lenders, the EU, the ECB and the IMF, to postpone their scheduled visit to Athens on Monday.
Editor:Wang Xiaomei |Source: CNTV.CN