Watch Video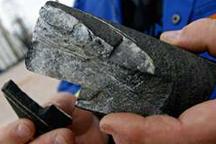 Play Video
China is expected to start its second shale gas auction later this month with some 70 companies saying they will participate. The news got people talking again about a shale gas boom in China. But there are several challenges.
To tap the potential of its shale gas reserves, the Chinese government has unveiled a string of policies to boost production. At the end of last year, the State Council classified shale gas as a mineral resource.
In March, the government released a blueprint for the industry as part of its 12th 5 year plan. It set a goal of 6.5 billion cubic meters of shale gas production by 2015, and more than 60 billion in 2020, a target some experts say will be hard to attain.
Chen Weidong, chief energy economist with CNOOC Energy Economics Institute, said, "It will be very, very difficult, if you only rely on the three or four state-owned companies. There is also a question of investment. To produce 6.5 billion cubic meters, my personal estimate is it will cost more than 6 billion dollars, and the investment needs will only increase by the year. To attain that goal you'll need tens of billions."
China's potentially recoverable reserves of the unconventional fuel are estimated to be over 25 trillion cubic meters, but the extraction method requires advanced technology and China's reliance on foreign technology will keep costs high. The experts say China's shale gas development is in its very early stages.
Li Yuxi, Oil & Gas Resources researcher with Ministry of Land and Resources, said, "You need a period of learning and adjustment for shale gas development, Only when we have some experience in developing our technology and management skills can we make a breakthrough and enter a period of fast development."
China currently has 62 shale gas wells in trial development zones, 24 of which have been able to generate output qualified for industrial use.
Editor:Zhang Rui |Source: CNTV.CN