Watch Video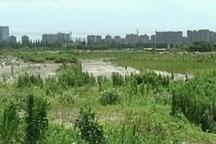 Play Video
China's rebounding property market in June has sparked speculations about a potential hike in land prices, especially after a record 2.6 billion yuan land sale in early July, which has marked this year's highest land bid so far.
Although many investors may assume land prices will go up together with the rising property market, experts say this is not necessarily the case this time around. Laura Luo reports.
According to the Ministry of Land and Resources, land transactions with premium prices dropped by nearly 95 percent in the first half of this year. In the same period of last year, there were 433 land sales cases processed with record high prices. This year, this number has come down to 24 cases. Experts say the recent 2.6 billion yuan land bid in Beijing is only an isolated case, and that it is not representative of the land prices in the whole country.
Zhao Song, director of Land Price Dep't, Ministry of Land & Resources, said, "From the 24 pieces of land we've been monitoring for the first half of this year, and comparing with our supply, there is only a small number of excessively priced land, and will not affect the overall trend of land prices."
The ministry has decided to increase land supplies in second and third tier cities, such as Shi Jia Zhuang, a city about 300 kilometres southwest of Beijing.
Liang Wei, deputy director of Shi Jiazhuang Bureaux of Land & Resources, said, "We plan to unfreeze 3.7 million square metres of land for residential buildings, the bigger supply will stabilise the property prices."
The land supply for the whole country has increased by 26 percent compared with the past five years' average data. According to statistics, until the end of June, growth rates of land prices in major Chinese cities declined for four consecutive quarters.
Editor:Wang Xiaomei |Source: CNTV.CN