Watch Video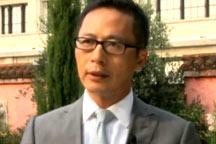 Play Video
All sports eyes are on London today as the spectacular Olympic Games are finally kicking off. The three-hour opening ceremony is watched by "Slumdog Millionaire" director Danny Boyle, and will be watched by a crowd of 60,000 in the British capital's main stadium, and a global audience of more than a billion people. The games are also attracting a large number of investors from China.
The Olympics are nominally a sporting event but Britain is going to squeeze every possible benefit out of staging them. London's Mayor Boris Johnson has made no bones about using the games to woo investors - describing them as a "gigantic schmooze-athon". It may already be working with CEC members saying they will be investing off the back of their trip here.
Wang Chaoyong, CEO of Chinaequity Group, said, "We see a few, very interesting British brands. We will invest and find a Chinese operator to work with a British company to take advantage of the vast and massive Chinese consumer base, to grow the business."
And despite Britain's latest GDP estimates - out this week - suggesting a sharp contracting in economic growth, business leaders think the UK remains well-placed to capitalise on an increasingly important trade relationship with China.
Michael Yu, CEO of New Oriental Education Group, said, "We put UK under very priority place, one of the first places we should do business with. One reason is that because we know the UK has a long history of business. And another reason is we know that in the UK when they are doing business people doing business abide by all the rules and regulations and they do a deep research and understanding about other nations."
Having been invited by David Cameron and here to find potentially lucrative investments, CEC members are unlikely to say different, of course. But British politicians know the Olympics are a golden opportunity for business.
Professor Tony Travers, London School of Economics, said, "What they see is a chance to get people from all over the world, particularly from countries with large capital, large amounts of capital to invest, they want to get them into London to show them what it's like, to show them that Britain is a relatively secure place to put their money, that it's a politically safe place where government and opposition agree on balance on inward investment and the way foreign companies are treated."
And for these canny investors, Britain's economic woes have a benefit - there might just be a few bargains around.
"This trip has coincided with some gorgeous, summer London weather. The economic climate has not been quite so co-operative but it doesn't seem to be putting off these Chinese business leaders. Olly Barratt, CCTV, London."
Editor:Zheng Limin |Source: CCTV.com