Watch Video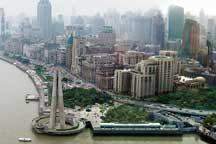 Play Video
More cities around the country saw home prices rising in July from June. Home prices in 50 out of 70 major cities rose slightly, double the number of 25 recorded in June. In Shanghai, some developers are quietly rising prices of newly built homes. Wang Lihuan has more.
At this residential project outside Shanghai's outer ring roads, more than 120 apartments were up for sale over the past weekend. The selling price for decorated homes here was 23,000 yuan per square meter, not the cheapest in the area.
A salesperson said,"Most of the potential buyers are looking for new homes to move into, or buying them as newly-weds. They are buying homes because they have to, so they think the price is a bit high."
Salespeople claim they have not increased prices, but careful buyers observed some changes.
A home buyer said,"The average price used to be 19,000 yuan per square meter, now it's 22,000. The total price is now 200,000 more."
Another home buyer said,"The price is 33,000 yuan, it seems to me it's gone up quite a bit. They used to have more discounts, something like 50- to 100-thousand yuan."
Analysts expect the upward trend in home prices in Shanghai will continue through October, as this is traditionally the hot season for home sales. China's home prices rose 0.1 percent in July from June, a second month of modest upticks, as signs of warming have emerged in China's property market. Some local governments have relaxed property market curbs in the wake of weakening local economies. On a year-on-year basis, however, average home prices nationwide remain down 1.5%.
Editor:Qin Xue |Source: CCTV.com