Watch Video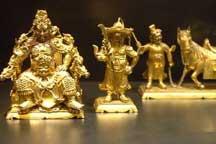 Play Video
Centuries-old art auctioneers Sotheby's and Christie's are facing increasing competition from Chinese houses such as Beijing-based Poly Auction. Just 7 years after it burst onto China's burgeoning art auction scene, Poly Auction is already the world's third-biggest by sales. But despite the rampant growth, the industry is also facing challenges, as gaps in the bidding and sales process have started to emerge. Martina Fuchs reports from Beijing.
The bidding price is multiplying by the second. Never before have so many fine art works, jewellery, antiques and coins come under the hammer in China.
Poly Auction, the country's biggest auction house, is just a baby compared with the familiar household names of Sotheby's and Christies. It set up shop in just 2005. Bit with the explosive growth of China's upper class - and the nation's enthusiasm for both luxury and investment - it's doing a roaring trade.
Li Da, managing director of Poly Auction, said,"Compared to Sotheby's and Christie's, which enjoy more than 200 years of history, Poly Auction is still in its embryo stage of development, and our sales performance is in line with China's prosperous economic trend. I pay more attention to our company's influence, power and brand, rather than the sales volume."
According to French auction body Conseil des Ventes, the world's top auction houses in 2010 by sales were Christie's at 3.4 billion euros, Sotheby's at 3.3 billion euros, followed by new kid on the block Poly Auction raking in 1.1 billion euros in third place. It's no wonder the company is setting its sights on international expansion.
Li Da, managing director of Poly Auction, said,"Now, we have offices in Taiwan, Hong Kong, Japan, New York and South Korea. We are planning to open offices in Los Angeles, Paris and London. Going global is our future development strategy."
The old guard may have pedigree and years on Poly Auction, but the Chinese player has one key, home advantage - access to the increasingly lucrative Mainland market - a realm that its American and British rivals haven't been allowed to penetrate.
Martina Fuchs, Beijing, said,"Sales like these of fine Chinese paintings and calligraphies now generate hundreds of millions of dollars at each auction. We are not allowed to show the clients' faces or talk to them to protect their identity, but it is clear that all of them come from China's rapidly growing number of affluent art collectors. But with the new record-breaking figures, irregularities are also emerging."
Bo Zhuang, China economist and trusted sources research, said,"Late or non payments are a big problem. Fake products, xxx."
Elsewhere in Beijing, art is still affordable for the masses.
Martina Fuchs, Beijing, said,"Here in the 798 Art District in Beijing, you don't need big pockets to buy pieces of art. But the question is whether the luxury art market in China will push up prices for urban art too."
The Ullens Center for Contemporary Art is a not-for-profit art center in the heart of Beijing's art scene. The director says the auction business in China will have an impact on the art market here.
Philip Tinari, director of Ullens Center for Contemporary Art, said,"The impact on the local art market."
Editor:Qin Xue |Source: CCTV.com