Watch Video
Play Video
By CCTV Laura Luo
More than 600,000 foreigners now call China home. Many of them see China as a vast land of opportunity where the break-neck economic progress offers limitless potential for pursuing their dreams. But what does it take to turn a dream into a successful business in the world's second-largest economy?
Meet Paul Rundle, a Brit who's literally building his dream, brick by brick, in China.
Inside his bright, compact office in downtown Beijing, Rundle and his Chinese designers are hard at work, sketching blueprints and giving their designs a final polish.
Rundle is an architect. But unlike other Western architects working in China, he has no interest in building futuristic glass towers. Instead, he has a reverence for Chinese tradition that's expressed in his design aesthetic. For this social housing project, he did extensive research into traditional Chinese dwellings.
Rundle said, "The idea was from Hakka style housing, it's mainly down in the south. The courtyard will give a sense of community to people live in there. So rather than go home and close their doors, there's a playground in the middle where people can interact."The integration of humanity and nature is an aspect of Chinese philosophy Rundle fully embraces in his designs, evidenced by this chapel built of bamboo.
Meet Paul Rundle, a Brit who's literally building his dream, brick by brick, in China.
Rundle said, " I don't want to chuck a western style chapel in the mountain. I use bamboo so it's a part of the natural sceneries."
It's his love of Chinese culture that has been largely responsible for keeping Rundle in Beijing for 13 years. Where his business is concerned, there's one other vital element.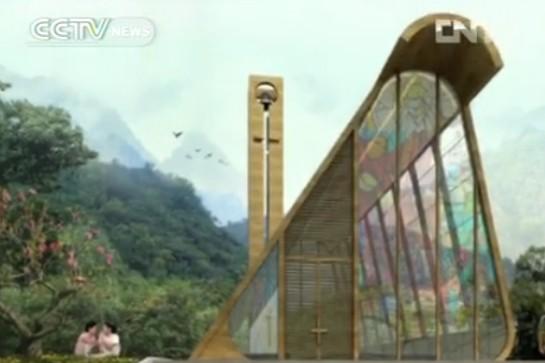 For this social housing project, he did extensive research into traditional Chinese dwellings.
Rundle said, "China provides opportunities that I can never get in other countries. I've done hundreds of projects, there are all kinds of opportunities. "
CCTV's Luo said, "Here in China, the architectural landscape changes almost daily. It seems skyscrapers, apartment blocks and shopping malls go up in the blink of an eye. And it's lucrative too, with market potential estimated at over one trillion U.S. dollars. A gap left by 30 years of almost no construction is waiting to be filled. This is one of the most exciting places on earth for Western-trained architects, but there are hefty challenges too."
Setting up a wholly foreign-owned business in China, as Rundle has done, is difficult on almost every front. For a start, there are the stringent capital requirements, and the complex and time-consuming administrative process. Even with all this behind him, there's no guarantee of success in what is a fiercely-competitive sector. But Rundle does have one key advantage over his Chinese rivals. It's a construction technology that saves time and money – and it's green. It's called pre-fabricated housing.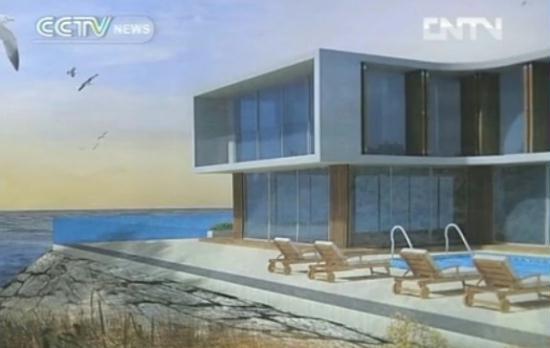 For this social housing project, he did extensive research into traditional Chinese dwellings.
Rundle said, "You make the parts of houses in factory, shipped to other countries, and it takes 6 people about two days to assemble them. It's largely used in Western countries but just starting in China."
All in all, it's a truly international operation. Hans, is Hans Schlupp, Rundle's business partner. He spends much of his time at their Shanghai factory, making the final checks on the pre-fabricated housing before the parts are shipped out to their destination countries, where they'll be assembled to become someone's home.
Hans Schlupp, partner of Flux, said, "These what we call containers or rather partly finished houses, are ready to be shipped out to Australia... Here is the kitchen, everything here is made according to Australian standards."
Zhou Rong, deputy professor of Qing Hua, shool of architecture, said," I think prefabricated housing has enormous scope for development. It's been around in western countries since the end of the second world war, in the former Soviet Union in particular. It has several key advantages over traditional building methods. Time and effort are saved during construction, there's less pollution to water resources, less noise, and less dust. It can also be used for high-rises and large-scale projects. A big niche market was created when low-quality buildings put up in the 1990s were demolished, which can be replaced with high-quality modern-looking buildings."
Now, however, in the wake of China's modernisation drive, traditional Chinese aesthetics seem to be reasserting themselves – as are the country's own architects. The result is that the foreign architects are losing their competitive edge.
Zhou said,"In the late 90s and early this century, foreign architects flocked into China. Back then, few Chinese architects could compete with them. There was a clear gap between our ability and theirs. However, there's been a big improvement over the past 10 years, and that gap is no longer very obvious. In fact, in many areas Chinese architects are doing better than the foreign architects.."
Back at Rundle Design Associates, Rundle is unfazed by the encroaching competition. Having called this country home for 13 years, he's used to doing things the Chinese way.
Rundle said, "I get business from friends, or friend's friend. Connections form the backbone of my businesses… Guanxi is very important in China, it's totally normal, old school boys helping each other. If you have the connections, everything's done faster."
Rundle's investment in China is both personal and financial. What he gets in return is not just a decent income, but something he thinks is even more important.
To Paul Rundle and a growing number of like-minded creative people from overseas, China offers a blank canvas. More than just somewhere to do business and even make a home, China is a place where they can take a vision and make it reality.
Related stories
Editor:Zhang Jingya |Source: CCTV.com