Watch Video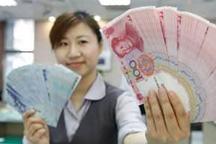 Play Video
At a press conference held on Wednesday, the spokesman of China's State Council's Taiwan Affairs Office Yang Yi says the cross-strait currency settlement memorandum signed at the end of August has officially gone into effect.
The scheme will allow direct currency transactions between the Mainland and Taiwan's banking systems, thereby forging closer monetary ties.
The Chinese mainland and Taiwan signed a deal late August that paves the way for Taiwan banks to take deposits and loans in renminbi.
Under the deal, the two sides will each designate a bank to carry out currency settlements and liquidations for the other side.
Yang Yi, spokesman of the State Council's Taiwan Affairs Office, says that monetary authorities from both sides have geared up for the operation of the cross-strait currency settlement mechanism.
Yang said, "Both sides can start the Renminbi settlement business via clearing banks or agents banks now. Banks in Taiwan, if allowed by Taiwan financial authorities, could begin Renminbi settlement by using the agent bank model. And our mainland financial authorities are choosing clearing banks under a transparent, fair and open mechanism. We hope the direct currency transaction business can start as soon as possible."
In addition, qualified banks will be able to carry out cash exchanges of currencies from the two sides in accordance with relevant laws and regulations. The move lowers the cost of currency exchange and the risk of exchange rate fluctuation for businesses on both sides.
Professor Huo Deming with Peking University said, "Explain how the new settlement mechanism is to benefit businesses of the two sides."
The total volume of cross-strait trade was 121 billion US dollars for the first 9-months of the year.
The latest figures show, on average 4 percent of global payments with the mainland were settled in RMB. Analysts predict that the closer economic relationship will make it possible for cross-strait RMB trade settlement flows to eventually reach 12 billion US dollars a year.
Editor:Zhang Rui |Source: CCTV.com