Watch Video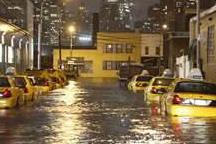 Play Video
Over in the United States, one of the most devastating storms ever to hit the country's eastern seaboard is finally starting to weaken. However, superstorm Sandy has left quite a path of destruction on the U.S. east coast as it heads inland.
Analysts say Sandy may turn out to be one of the priciest storms on record...with the total bill for damages likely to clock in, in the BILLIONS of dollars. --The silver lining in all of this though, is economists believe the long term impact of Sandy on the U.S. economy will be minimal.
Business owners are assessing the damage after Sandy swept across the U.S. east coast. In Atlantic City, New Jersey, local businessmen believe that the city would be back in action in a few days.
Pizza Parlor owner Redzp Alili said, "Well, we came to clean up and people started coming in. They were hungry so we just continued to serve."
The New York Stock Exchange is scheduled to reopen for regular trading on Wednesday after being shut down for two days.
Economic forecasting firm IHS Global Insight said Sandy will cost about 20 billion US dollars in property damages and 10 to 30 billion dollars more in lost business. Experts say that a slightly slower economy in the coming weeks will likely be balanced by reconstruction and repairs that will contribute to growth over time.
Dr. Nayantara Hensel, professor with National Defense University, said, "I think that it really is a bit of a slowdown in economic activity that can impact various areas of the world and also the entire country, because right now there is a lot of interest in the economy and economic output, on policies that we ought to be doing and people rely on New York City for their insight."
As for the short-term blow to the economy, IHS predicted that it could subtract about 6-tenths of a percent from US economic growth in the fourth quarter.
Editor:Zhang Rui |Source: CCTV.com