Watch Video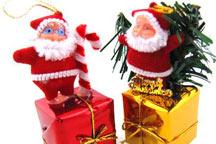 Play Video
By CCTV reporter Michelle Xing
The past ten years slowly marked a shift in China´s growth model, which has been led for the most part by exports. So just what is the state of China´s export industry and what lies ahead? Our reporter Michelle Xing travelled to Yiwu, in Zhejiang province, one of the cities that has immensely benefited from what used to be China´s export driven model.
In the first part of this 3-day series, she takes a look at the Christmas products industry of the city and why it is regarded by some as the christmas capital of the world.
Tomorrow in the second part of the special series, Michelle will bring us a closer look at the lives of labour intensive manufacturers. With rising labour costs and weakening global demand, how do these export oriented companies survive?
Michelle Xing said, "It's again the time of jingle bells and mistletos, and just when you are getting ready to decorate your Christmas tree, we paid a visit to the city where almost all Christmas products come from. In the city with less than a million population, there are 750 companies specialized in making or selling Christmas decorations. But with rising labor costs and the weak European currency, what is it like for these chinese companies doing business with foreigners this year?"
Most foreign buyers place their Christmas orders in the summer or early fall, so by this time of the year, majority of the Christmas products are well on their way from Chinese factories to wholesalers all over the world or possibly already on your store shelves.
Shen Minhua, owner of LeiRen Christmas is specialized in making Christmas ornaments. She says over all sales this year are about the same as last year's but orders from Europe have dropped significantly.
Shen Minhua said, "Europe is one of our major export destination, this year sales have dropped around 30%."
But it's not all doom and gloom, lights are still shinning bright in some other parts of the world. Yu Qiaofang, owner of ZhengQiao Christmas Gifts, targets her products to Brazil and Russia, She says sales have gone up this year.
Yu Qiaofang, owner of Zhengqiao Chiristmas Gifts, said, "I export more than half of my products to Brazil and Russia. Compare with last year, the number of customers and the amount they order are both higher from these two countries."
In fact, Brazil has become Yiwu's number one Christmas export destination, accounting for more than 12 percent of the total export. Export to Russia has been increasing dramatically, up over 300 percent compare with last year.
As for the home market, China, business has been increasing steadily, as more Chinese start to embrace the blissful season of Christmas.
Wang Jinjing, owner of Xinyuan Christmas, said, "Last year 10 percent of our sales are from local consumption, this year it accounts for 20 percent of our sales."
Official data from Yiwu customs shows that Christmas product exports in the first 9 months were up close to 50% compare with the same time last year. With such high growth number, why are manufacturers feeling the winter chill so early this year?
Chen Jinlin, Secretary General of Yiwu Christmas Products Association, said, "Competition is fierce this year. There were 400 some companies do Christmas products in 2010. It increased to 500 some in 2011 and now there are around 750 companies. So everyone on average gets a smaller slice of the total pie."
Christmas decorations is a lucrative business, hence more and more companies want a part of the action. So if there is a place you could call the Christmas capital of "middle earth", it's most likely this - Yiwu, a very integral part of Santa's supply chain - which as we all know leads. To the north pole.
Related stories
Editor:Wang Xiaomei |Source: CCTV.com