Watch Video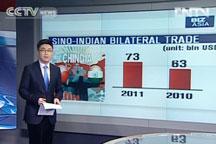 Play Video
China has long been the world's manufacturing hub and fastest-growing consumer market. While India is attractive for being the foremost business-processing and IT services hub, with lots of long-term market potential.
Bilateral trade grew to 73 billion US dollars in 2011, up from 63 billion dollars in 2010, that's about 15 percent annually. So what does China buy from India, mainly iron ore and cotton.
And India snaps up electronic products, mobile phone and related gears, and power equipments from China. That's why the IMF said, among all the BRICS countries, India and China are the most promising economies that are complementary to each other. Now, as market demand from developed economies stalls amid all the headwinds right now, China and India are facing some common challenges.
China's growth is set to decline from 9.3 percent last year to 7.7 per cent this year. India's growth is set to fall from 6.5 percent last year to 5.6 percent in the year to March 2013. Bilateral trade also slowed during the first 10 months of this year and may not reach even last year's figure of 73 billion US dollars.
But as India is vigorously mapping out plans for its infrastructure development blueprints, investments from its neighbours such as China are vital. Experts believe future cooperation between the two countries will yield profitable results.
Related stories
Editor:Wang Xiaomei |Source: CCTV.com