Watch Video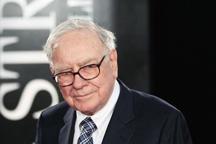 Play Video
Investment mogul Warren Buffet has met with his board over the weekend to look for a successor as CEO for his conglomerate Berkshire Hathaway. The 82-year old has not yet found anyone to follow in the footsteps of his 160,000 dollars per share company and the speculation is piling up. The job applications at the same time, must be flowing in. So who are the most likely candidates?
He looks still hale and hearty, but the 82-year-old god of stocks is urgently looking for a qualified successor to continue his investment legacy.
But on the final decision, Warren Buffet never spills a word.
For Buffet, he needs someone more passionate, brainy and energetic on the business and the company. That's the culture there.
Buffett says he doesn't expect his new CEO to make any significant changes to Berkshire Hathaway after he's gone.
But before the power hand-over is hammered, Buffet still has a word to say. That's why more than 30,000 flock to the shareholder meetings every year.
Buffett and his investing partner Charles Munger told shareholders to stick to the industries they know, but the right temperament is also important.
As for Buffet, he calls US Federal Reserve Chairman Ben Bernanke a "gutsy guy" who has done "very very well" to keep the economy going. But he suggested that it may be hard for the Fed to safely unload its 3.4 trillion US dollar investment portfolio, as Buffett said, "It's a lot easier to buy things than it is to sell them."
Looking across the pond, Buffet says Europe can still be viewed as a place which offers opportunities to buy stocks.
Editor:Zhang Jingya |Source: CCTV.com