Watch Video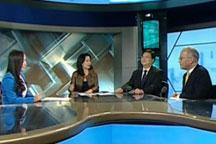 Play Video
During the presser, Premier Li Keqiang also addressed the issue of foreign trade. The premier noted China and the US made 100 million US dollars of trade per working hour, and the potential will be huge, as the two sides are negotiating on investment deal.
Now let's get some perspective with our guest panel, Zhao Zhongxiu, VP, UIBE, Einar Tangen, current affairs commentator.
Q1) Jan and Feb trade data disappointed -- but analysts say if you take out hot money inflows disguised as exports last year in Jan and Feb, exports show an 8% rise. What does this say about the rest of the year?
Q2) How much will the weaker yuan help China's exporters?
Related stories
Editor:Zhang Rui |Source: CCTV.com