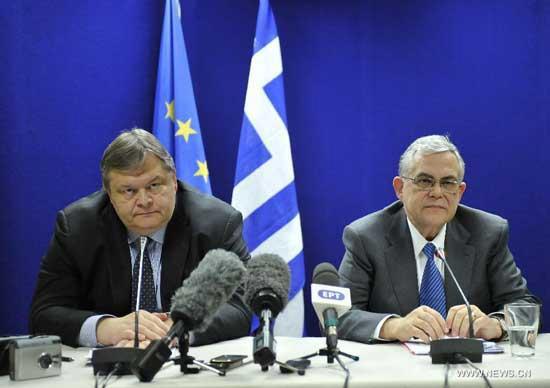 Greek Prime Minister Lucas Papademos (R) and Finance Minister Evangelos Venizelos
attend a press conference after a night discussion of Eurogroup finance ministers on
the second bailout plan for Greece in Brussels, capital of Belgium, Feb. 21, 2012.
Eurozone finance ministers had approved a second bailout deal for debt-laden Greece,
averting its imminent default and temporarily putting an end to months of uncertainty
that had overshadowed the eurozone, President of Eurogroup and Prime Minister of
Luxembourg Jean-Claude Juncker said early Tuesday. (Xinhua/Wu Wei)
Greek Finance Minister Evangelos Venizelos, left, gestures while speaking with
European Central Bank President Mario Draghi, second right, during a round table
meeting of eurozone finance ministers at the EU Council building in Brussels on
Monday, Feb. 20, 2012.
Related stories
Editor:James |Source: CNTV