Related reading
Edvard Munch's masterpiece "The Scream," one of the world's most recognizable works of art, sold for $119.9 million at Sotheby's on Wednesday, setting a new record as the most expensive piece of art ever sold at auction.
The image of a man holding his head and screaming under a streaked, blood-red sky is one of four versions by the Norwegian expressionist painter. The piece auctioned at Sotheby's is the only one left in private hands. The buyer's name was not disclosed.
The previous record for an artwork sold at auction was $106.5 million for Picasso's "Nude, Green Leaves, and Bust," sold by Christie's in 2010.
Edvard Munch's "The Scream" is auctioned at Sotheby's Wednesday, May 2, 2012, in New
York. The image is one of four versions created by the Norwegian expressionist painter.
Three are in Norwegian museums. The one at the Sotheby's auction is the only one left
in private hands. It is being sold by Norwegian businessman Petter Olsen, whose father
was a friend and patron of the artist. The hammer price was $107 Million with the
buyers premium the price is $119,922, 500. (Xinhua/AP)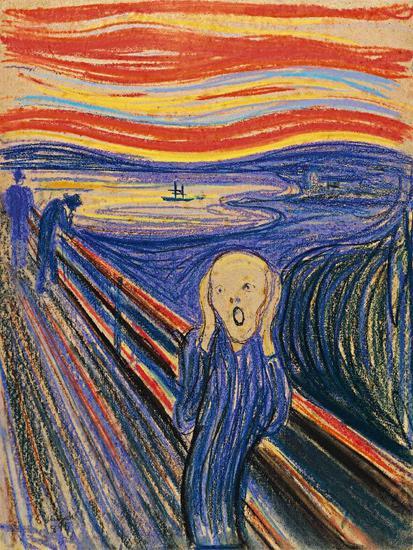 In this undated photo provided by Sotheby's Auction House in New
York, "The Scream," Edvard Munch is shown. The 1895 pastel on
board, arguably one of the art world's most recognizable images,
sold Wednesday, May 2, 2012 for a record $119,922,500 by
Sotheby's in New York City. (Xinhua/AP)
Related stories
Editor:James |Source: CNTV