A mild reaction in Spain both on the streets and on the markets after the decision by the Eurozone contries to come to the rescue of the sick Spanish banking sector with a cash injection of up to 100 billion euros. On this first business day after the bank bailout was announced, Spaniards are wondering whether the huge cash injection that the Eurozone has made available to rescue the saving banks is a poisonous present.
A resident says, "This package will only help the banks, and will not be useful to reduce both deficit and debt" The resident says, "The European Union is aware the Spain is a country to big to fail. This cash injection will benefit the financial sector, the European economy and the euro itself" The government of Mariano Rajoy insists that the 100 billion euros is a loan to streamline the financial system and prevent a dangerous chain reaction of bankruptcies.
Madrid says that with the current reforms and austerity measures, the Spanish state does not need a real bailout, therefore it will not be intervened as Portugal's, Greece's or Ireland's.
Manuel de la Rocha, Economistas Frente A La Crisis says, "You know this bailout we need to really differentiate from full bailouts that took place with Greece, Portugal and Ireland. So this this is only a partial bailout. The government didn't have an alternative really because at borrowing costs over 6% and with this hole in the financial system there was no way the government could finance it by itself. So the solution is partial. Here the key is to see the type of conditionality that it's going to be imposed on Spain. The Spanish government and certainly the Spanish people hope that the conditionality will be focused on the financial sector and will not affect the macroeconomic polities, the pension system, the deficit, social expenditure. We are really hoping that it will not be affected by this conditionality."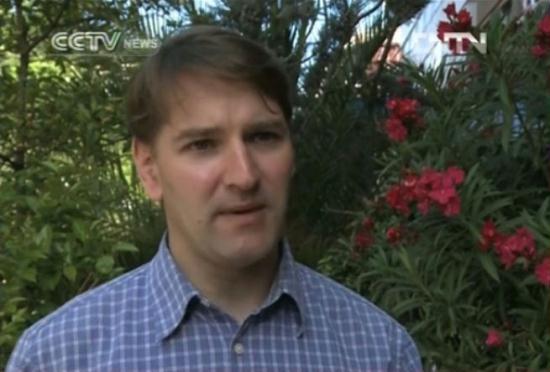 Manuel de la Rocha, Economistas para la Crisis
But analysts say that with the bank bailout the private debt originated from the real-state crash has now turned into public debt, worsening the financial burden of the Spanish government which will now increase to over 600 billion euros. This in turn will jeopardize the target of reducing the public deficit.
But for both the government and the Eurozone, this financial aid to Spanish "cajas de ahorro", savings banks, especially the systemic Bankia, is good news for Europe and for the Euro currency. The International Monetary Fund estimated that Spain needed 40 billion euros to shore up its banking sector. If the Eurozone has more than doubled that amount it is to ensure, Madrid has enough ammunition in case the markets keep on punishing the Spanish banks and the Spanish sovereign debt.
Related stories
Editor:James |Source: CNTV