The deep recessions in Spain and Greece have put pressure on the US central bank to increase economic growth here to compensate for the drag that Europe is putting on the global economy, but the FED didn't budge.
In other words, it didn't choose to more "stimulus" which "finance-speak" for ways to inject capital into the economy without actually printing more money. The FED's conservatism will have an impact on US businesses and consumers as well as foreign nations that buy American debt.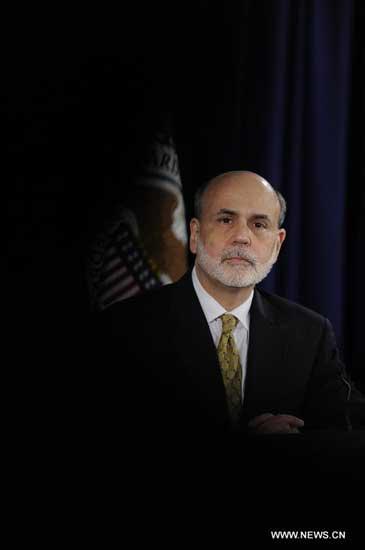 U.S. Federal Reserve Chairman Ben Bernanke attends a press
conference following a Federal Open Market Committee (FOMC)
meeting in Washington D.C., capital of the United States,
June 20, 2012. The U.S. Federal Reserve on Wednesday announced
to extend a program intended to lower long-term interest rates
in a bid to foster economic growth and employment. (Xinhua/Zhang Jun)
Federal reserve chairman Ben Bernanke at his quarterly press conference Tuesday defending the central bank's decision to continue a program known as "operation twist", a strategy the fed devised to get more credit flowing in the US economy.

Ben Bernanke, FED Chairman, said, "We did take a substantive step today by extending the maturity extension program to the end of the year. I think that's a meaningful, additional step."
But he acknowledges until US commercial banks start underwriting more loans and mortgages the US economy will continue to grow sluggishly around 2.4% this year, according to the FED.
Dale Kluga, Cobra Capital, said, "Our economy is going to continue to stagnate uh, until the banks start lending on fair terms both to personal borrowers and residential mortgages as well as to small businesses."
Chicago-area banker Dale Kluga says the nation's biggest banks are denying credit to small businesses, the backbone of the US economy.

Dale Kluga said, "The big banks are lending approximately one percent of their balance sheets. They could change overnight if they committed to small business, a more significant portion of their balance sheet rather than investing in these toxic, highly-sophisticated and dangerous CDS securities like what happened to JP Morgan Chase."
As of May, at least 8 of the eurozone's 17 nations were in recession, which is sending foreign investors on the hunt for higher investment returns outside the region.
The US Federal Reserve has cut its forecast for American economic growth and job growth for this year. In its quarterly meeting, the Federal Reserve board also decided to continue keeping interest rates at near zero.
In April, China bought a billion dollars more in US treasury securities.
But with the FED's decision to keep interest rates near zero, there's little profit to be had. But the US remains the largest national economy on earth, which makes it a relatively safe investment, despite losing its triple-A credit rating in 2012.
As for any chance of future stimulus, Bernanke says a continued US employment slump could persuade the US central bank to intervene.
Bernanke said, "If we don't see continued improvement in the labor market, we will take additional steps if appropriate."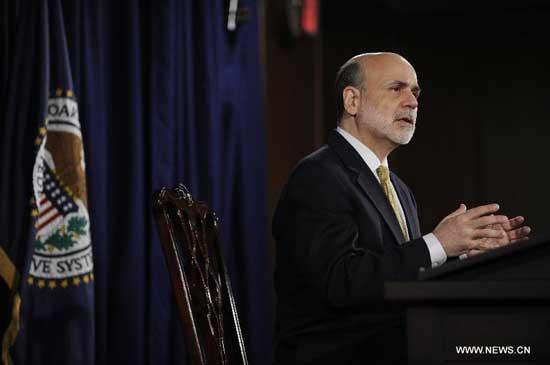 U.S. Federal Reserve Chairman Ben Bernanke attends a press conference following a Federal
Open Market Committee (FOMC) meeting in Washington D.C., capital of the United States,
June 20, 2012.(Xinhua/Zhang Jun)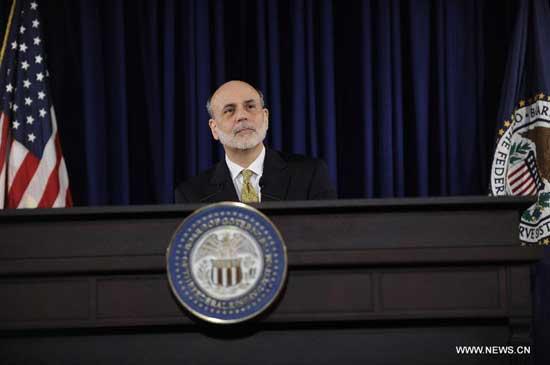 U.S. Federal Reserve Chairman Ben Bernanke attends a press conference following a Federal
Open Market Committee (FOMC) meeting in Washington D.C., capital of the United States,
June 20, 2012.(Xinhua/Zhang Jun)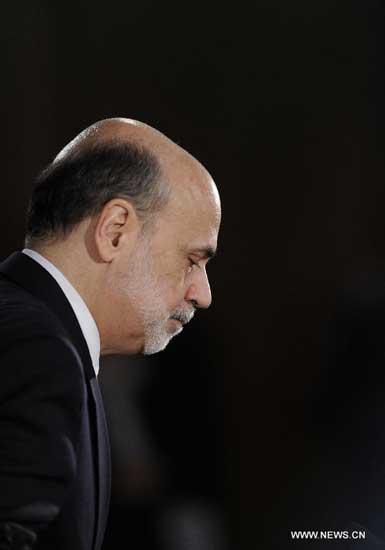 U.S. Federal Reserve Chairman Ben Bernanke attends a press conference
following a Federal Open Market Committee (FOMC) meeting in Washington
D.C., capital of the United States, June 20, 2012. (Xinhua/Zhang Jun)
Editor:James |Source: CNTV