World leaders have gathered in the Brazilian city of Rio de Janeiro for the United Nations sustainable development conference. The conference is designed to raise awareness of the world's pressing environmental and social problems.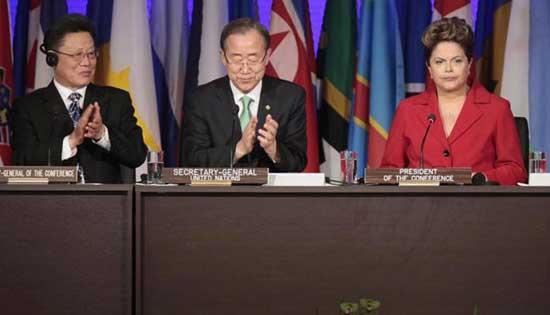 Sha Zukang (L), secretary-general of the Rio+20, and UN Secretary-General Ban Ki-Moon (C)
applaud as Brazil's President Dilma Rousseff attends the opening of the Rio+20 United
Nations sustainable development summit in Rio de Janeiro June 20, 2012.
It's billed as the biggest conference the United Nations has ever held and this conference area has all day heard speeches and debates from world leaders and environmentalists. They all agree—in vary degrees—that the world must develop in a more sustainable way. Just how is still in dispute.
Presidents, and Prime Ministers. All gathering with one apparent common purpose: to find a way for the world to live within its environmental means. The conference's Brazilian host opened proceedings.
So many had come to Rio, she said, that she was confident that expectations here would be fulfilled.
Through the day, every leader present took to the podium.
Chinese Premier Wen Jiabao said, "I look forward to fruitful UN on the conference on sustainable development. And I hope it will draw a blue print for the future we want, and conclude a new comfort and harmony between man and nature. China will work with the international community to share opportunities, meet challenges and write a new chapter of sustainable and development for mankind."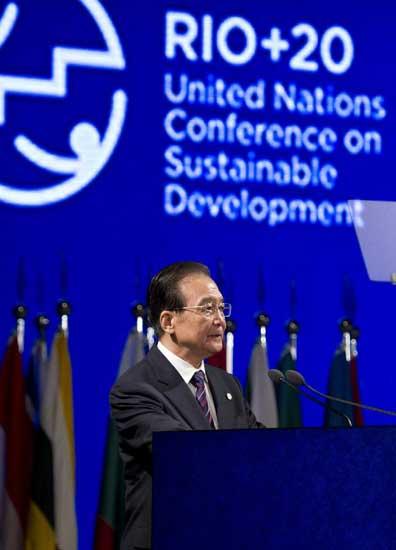 Chinese Premier Wen Jiabao delivers a speech at the UN Conference
on Sustainable Development (Rio+20 summit) in Rio de Janeiro, Brazil,
June 20, 2012. (Xinhua/Li Xueren)
Mohamed Waheed, President of the Maldives,said, "I am from one of the smallest countries on this planet. I am here because of the survival and development of our children our inextricably linked to what happens in your countries."
One after another, they called for unity in facing some of the pressing environmental questions of our time.
Mahmoud Ahmadinejad, President of Iran,said, "If human beings are defined as rivals or enemies in the exploitation of the environment and its resources the situation will remain as it was over the past centuries."

The summit is seeking to produce a common agreement on issues as diverse as forestry preservation to the future of the world's biggest cities.
It has its critics. Some environmentalists - out in force in Rio this week - say that in the pursuit of an acceptable compromise between the conflicting interests of developed and developing countries, the leaders are set to agree a document that has become so watered-down as to be meaningless.
Those attending warn that the summit may not conclude with any spectacular declarations. But they insist that with so much at stake—at least raising awareness of the issues that face our planet—is vital.
Related stories
Editor:James |Source: CNTV