Eurozone leaders broke through German opposition on Friday to allow the new permanent bailout fund to pump money directly into stricken banks and intervene on bond markets to support troubled member states.
CCTV's Jack Barton reports the summit was widely seen as a positive step forward for the trading block despite a key growth pact falling well short of expectations.
Growth had been the theme of the EU leader's summit, though the final 120 billion Euro package of European Investment Bank loans and development bonds failed to impress.
But it turned out to be a summit of surprises after all.
German Chancellor Angela Merkel broke the news that a new banking supervisory body, based around Europe's Central Bank, would be set up by the end of the year.
The she dropped a bombshell by ending her resistance to the half-a-billion Euro strong European Stability Mechanism bypassing governments when banks begin to wobble.
Merkel said, "The ESM's governing council can make a decision to allow direct recapitalization of banks."

Reporter: "What that means is that governments will no longer have to bear the additional debt load of rescue loans than can now be given directly to troubled banks, which should greatly reduce the odds of a government needing a fully-fledged bailout further down the track."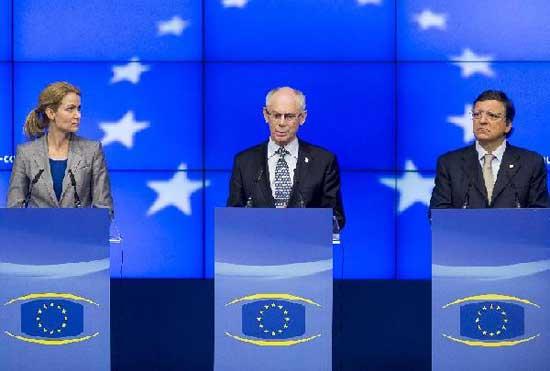 Denmark's PM Helle Thorning-Schmidt (L), European Council President Herman Van Rompuy (C) and
European Commission President Jose Manuel Barroso attend a press conference at the second day
of the European Union Summit in Brussels, capital of Belgium, June 29, 2012. EU top leaders
have agreed on a compact for growth and jobs, with a total of 120 billion euros to be
mobilized for growth measures in the bloc amid deep debt crisis at the end of the two-day
summit here on Friday. (Xinhua/Thierry Monass)
The new permanent bailout fund will also be able to buy troubled bonds once their fixed interest rates reach dangerous levels, in a bid to further calm the markets.
But to tame them altogether, the consensus is that much more still needs to be achieved on the road to a more federated and integrated Europe.
Hannes Swoboda, Austrian Member of the European Parliament, said, "For me is much better to have common institutions determining our budgetary policy, than the financial markets and the speculators."
Guy Verhofstadt, Belgian Member of Parliament, said, "I hope that we don't repeat the error we did last year, when we also 'bought some time', that is what we are mainly doing, we are 'buying time', two three months, and we have in the meanwhile to find an agreement on a structural solution to this crisis. The euro-crisis is not over with these decisions."

It wasn't the miracle cure but the summit was still hailed as a major breakthrough.
José Manuel Barroso, European Commission President,said, "We have taken decisions that were unthinkable just a few months ago."

And with the Euro and stocks surging on the news, it seemed that for the first time in a very long time, the markets agreed.
Editor:James |Source: CNTV