Cuban leader Raul Castro is continuing his official visit to China. Trade between the two countries has almost tripled over the past five years, reaching one point eight billion dollars in 2010. Our correspondent in Havana Michael Voss has been looking at China's trade with Cuba and how people there feel about strengthening ties with Beijing.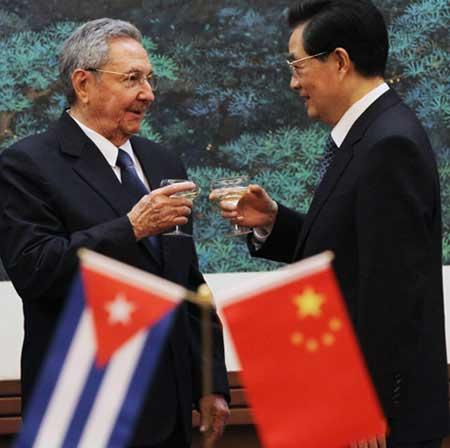 President Hu Jintao shares a toast with Cuban counterpart Raul Castro at the
Great Hall of the People in Beijing on Thursday. XU JINGXING / CHINA DAILY
Public transport in Cuba has long been a major problem but in recent years the situation has eased with the arrival of thousands of Chinese-built buses. At one point Cuba was the largest single buyer in the world of "Yutong" buses, partly made possible through easy credit terms.
Havana resident said, "They are more comfortable, have better ventilation, they seem stronger and more durable."
Consumerism here is on the rise now that the economic reforms are underway. The U.S. trade embargo means that Cuba has increasingly turned to China to meet demand, though there are complaints about the quality of some of the goods, like the 30,000 fridges the government bought to replace the old American and Soviet ones.
Havana resident said,"Our dealings with China are magnificent, except for the fridges which keep breaking down. They have so many good things there. It is a very developed country. If only more of those good things would come here."
Reporter: "Cuba's principal trading partner and political ally is Venezuela. There are elections there this year and its president Hugo Chavez is battling cancer. In the future Cuba may end up relying even more heavily on China."
Many Cubans hope that this week's visit by President Raul Castro will continue to strengthen ties.
Havana resident said,"I think it's really good. It is just a shame that we can't have relations with everyone in the world. We would like to but, ok, those who do open their arms to us are most welcome."

This is Havana's newest office complex. One of the wings is called "The Beijing" and is home to a growing number of Chinese companies ranging from telecommunications to oil.
China is providing drilling rigs and service support to the oil industry and has also signed a letter of intent to invest up to a billion dollars to double Cuba's oil refining capacity.
Related stories